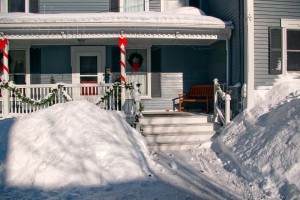 Our forecast was for about 3 inches of snow yesterday, but when we awoke there was already 9 inches on the ground and more coming down. We ended up with nearly a foot, at least in our parking lot.
It was the kind of snow, light and fluffy, that makes you want to go outside and make snow angels, running and playing like you were a small child. In fact, our neighbor's small children were doing just that, enjoying the day off school, as it was a holiday. They sledded down the small hill in the yard, and you could hear the happy voices for a while.
It was also the kind of snow, and chilly, yet mild, temperatures, that makes your cheeks flush when you come back inside, and all you want is a cup of hot chocolate and to curl up by a fire with a good book. Mmmmmm.
The snow was also greatly needed, and appreciated, by the ski operators in Maine's mountains, as we haven't had a good snow for several weeks, so this provided a nice addition to the ski slopes. It will also make for great snowshoeing and cross-country skiing around Freeport, and also at the many area locations.
We're hoping to get out to visit one of the cross-country ski areas nearby, to try that graceful sport.
What is your favorite thing about snow?