As we've mentioned previously, the slower winter season is our time to work on our projects at Brewster House (it is also our time to take a break and travel or visit family, but that is a post for another time!).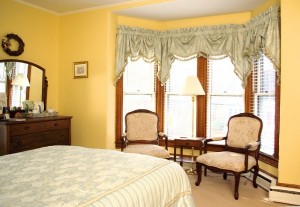 This year the transformations began early – before Thanksgiving – with the changes in Room Five, the front room on the second floor, with a bay window. It had been a nice shade of gray, appearing almost blue-gray in certain lights. The room had a red, white and blue floral bedspread which needed to be replaced.
We located a very pretty new bedspread, with matching valances for the windows, in aqua, with gold accents. We found a honey-colored paint for the room, and painted the bath the same aqua as the bedding. We also updated the bath with some new features. New chairs for the bay window completed the transformation.
Room Six, one of our two bedroom suites on the third floor, has also had its bath painted and renovated.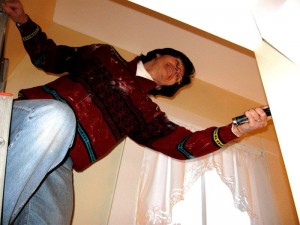 After Christmas Ruth began painting the third floor hallways and the front stairs, to match the second floor halls. She was precariously atop a ladder, over the deep stairwell in the front, painting the top of the highest walls. More recently, she has completed the halls and been working her way down the back stairs. In the accompanying photo you can see here atop a ladder, at the almost two-story rise of the back stairwell.
More exciting changes are in the works, and we will be posting updates throughout the Spring months (interrupted by some family vacation time, as well).