From our earlier posts, most guests and readers know that we took a long vacation to attend the Professional Association of Innkeepers (PAII) annual conference in Texas and drive across the country to visit family and friends. We arrived home safely two days ago, and thought we would post an outline of our travels, for those who are curious (or care to travel vicariously).
Because of the passing of Ruth's mother a couple of weeks before we were scheduled to depart, she was in Oregon attending to family matters, so Scott held the fort at the B&B. We're grateful for the understanding of the guests who were here during that time – between a 12 hour power outage, and solo breakfast prep and service, it was not the "normal" Brewster House experience!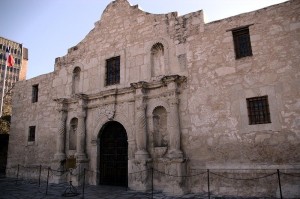 On March 4, Ruth flew from Oregon to Washington, D.C., and Scott drove from Freeport, Maine to Washington, D.C. (passing from Maine through New Hampshire, Massachusetts, Connecticut, New York, Pennsylvania, Maryland, and Virginia), arriving just in time to meet Ruth's plane. Yay! There we spent a couple of days visiting with dear friends in Northern Virginia. We left Virginia, heading for the PAII conference in Texas, and spent the first night at a B&B in Jackson, Tennessee. We didn't mention to the owners that we were B&B owners ourselves, as we find that some seem uncomfortable hosting other innkeepers.
After a good breakfast in the morning, we drove to Austin, Texas, via Arkansas. It was a long day, made longer by the downpour we experienced in the Dallas area, where visibility was extremely limited, and traffic on the freeway was moving at less than 20 MPH. However, we arrived in Austin safely, ready for the conference.
The conference was four days. The first day was primarily for aspiring innkeepers, so we arrived that evening. Tuesday Ruth attended food-related workshops, and Scott attended one technical marketing workshop, and presented on selecting Guest Management Software at another. Wednesday we needed to run some errands, so played hooky in the morning to run errands and visit the Texas capital in Austin, then returned for more workshops in the afternoon. Thursday there were morning sessions, followed by afternoon workshops, and Scott again presented, this time on managing online reputation, at an afternoon workshop. We enjoyed great food at a Texas barbecue place one night, and a Tex-Mex restaurant the next. Mmmmmmm!
Leaving Austin, we went south to San Antonio to see the Alamo and the celebrated Riverwalk. Both were really impressive. Then it was on up the west side of Texas (oh, my, this is a big state!) toward El Paso and points north. We discovered that the speed limit in West Texas is 80 MPH (!), but there is nothing out there, so if you run short of gasoline, it can be over 100 miles between stations. Whew, we made it!
We continued through a corner of New Mexico and into Arizona, where we spent the night in Tucson. We had contacted a B&B owner there, but it was her high season, and there was a three night minimum stay, so she recommended a small suites-style hotel, which we found to be very nice.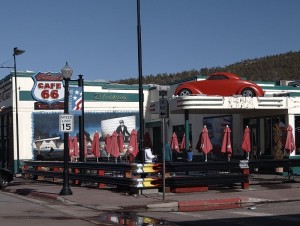 The next morning we were on our way north through Phoenix to Williams, Arizona (on the historic Route 66!). We spent the evening browsing the cute shops in Williams, and in the morning, our B&B host, Del, at Grand Canyon Bed & Breakfast, recommended that we drive directly to Grand Canyon Village, make dinner reservations at the El Tovar Hotel, then go see the Canyon. That's what we did, and it really paid off! We had a great day seeing the south rim (the north rim was closed seasonally) and hiking along the edge of the majestic wonder. When we returned in the evening, we noticed that people who had not made early dinner reservations were waiting almost three hours for their seating.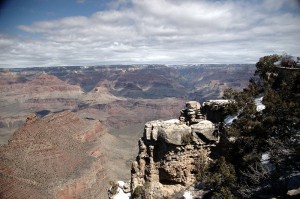 Next morning it was off early, heading west into California, where we arrived at our daughter's home in Morgan Hill, and visited with friends and family (including our son) for a couple of days. After a nice visit, we were off to Oregon, to Ruth's mother's house, where we did some cleaning and packed up some items in a U-Haul trailer. We saw Ruth's brother and family, then drove to the Seattle area, where we visited with Ruth's sister and her family for a couple of days.
It was time to turn toward home, so we drove through Idaho and into Montana, stopping in Bozeman for the night in a rainy drizzle. We awoke the next morning to a light snowfall, but by the time we got in the car, it was a full-fledged blizzard! As we drove onto the freeway and headed up to the mountain pass, we could barely see. We were very concerned as we climbed to the summit, but over the pass the snow turned to rain, and we had a nice, but rainy, drive through Wyoming to Rapid City, South Dakota.
We stayed in a wonderful old motel, the Big Sky Lodge, run by Jay & Alicia Culbertson, overlooking the city. Next day we planned to visit Mount Rushmore, but the fog was so extreme that we could barely see our car in the parking lot. After waiting a couple of hours to see if it lifted, we decided to drive on to Sioux Falls, SD for the night.
We were heading for Minnesota next, but Scott had never been to North Dakota, so we drove north into North Dakota, where we witnessed the extreme flooding south of Fargo, then turned southeast to drive to the Minneapolis area to visit Scott's brother and his wife for a couple of days. During that visit we enjoyed the Dead Sea Scrolls exhibit at the science museum.
It was on to Michigan (Scott's boyhood home state, and home of his alma mater, Michigan State University – go Spartans!) via Wisconsin, Illinois, and Indiana, to visit our other daughter and her family for a few days. Scott even had an opportunity to play golf with our son-in-law, while Ruth and our daughter enjoyed the grandsons.
Our last stop was in the Syracuse, New York, area, to visit Scott's sister and her husband. Next morning we were on the road home, in a torrential downpour, fighting wind and rain all the way home. We saw lots of the flooding in the northeast as we made our way through Massachusetts, New Hampshire and Maine.
We arrived home, grateful to have arrived safely, and also for the wonderful family and friends, old and new, we were able to see along the way. Now it is time to get the house ready for Spring and the upcoming season. We have lots of new things in store for our guests this year!