One of the favorite pastimes of our guests is visiting the nearby Maine lighthouses. The closest one to Brewster House Bed & Breakfast is Portland Head Lighthouse in Cape Elizabeth. We also love to send guests to visit Cape Neddick Lighthouse (the Nubble) in York Beach, as well as Cape Elizabeth Lighthouse (Two Lights), Pemaquid Point Lighthouse, Owls Head Lighthouse and Marshall Point (Port Clyde) Lighthouse. The locations of these and the other lighthouses in Maine can be seen on our lighthouse map.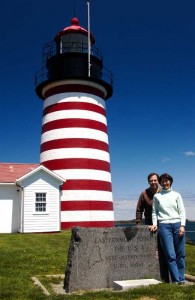 Some of our guests are already aware that we're in the process of changing room numbers to room names, and that the names will be some of our favorite Maine lighthouses. We needed some new pictures of these lighthouses to put in the guest rooms, so we decided to venture a bit farther than most of our guests would normally go for a day trip from Freeport Maine. We went all the way to the Canadian border, to visit West Quoddy Head Lighthouse near the town of Lubec, Maine. We had a sparkling, sunny day, with vivid blue skies, as we visited this eastern-most point in the United States. While it made for a long day trip, it is a worthwhile one, and can be done with a (relatively) early start, and willingness to explore.
We were able to climb down the stairs from the park area to the rocky beach for some unusual angles to photograph the lighthouse. Since it was low tide at the time, we were able to scramble out on some of the rocks to get nice pictures back toward the beach and the lighthouse.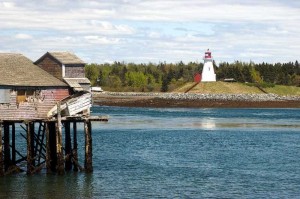 Across the waters of Quoddy Narrows is Great Manan Island, owned by Canada, while to the northeast, behind the lighthouse is Campobello Island, once a playground of the rich and famous, now a vacation spot that is part of New Brunswick, Canada.
While in the area, we went into the town of Lubec, where the Franklin Delano Roosevelt bridge connects the US with Campobello Island, and took photos of Canada's Mulholland Point Lighthouse, across the river, and learned from a local museum curator about the smokehouses, where herring was caught and smoked.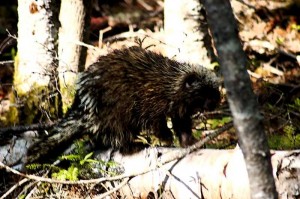 As we returned to the south on US-1 we turned left at Gouldsboro Maine, to take the loop that Route 186 makes, to Winter Harbor, then into the Schoodic Peninsula and the remote part of Acadia National Park that relatively few of those who visit Maine ever see. From there we could see lobster boats passing Winter Harbor lighthouse, and we were greeted on the road by an adventurous porcupine (from whom we kept a respectful distance)! We also were able to find some fine opportunities for pictures at Prospect Harbor and Prospect Harbor lighthouse.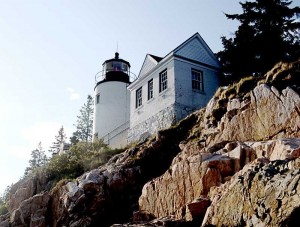 We continued to Mount Desert Island, where we made for Bass Harbor Head lighthouse. We scrambled onto the rocks and took several photos, but were a little disappointed to find the sun almost directly behind the lighthouse, making picture-taking a bit difficult.
Driving back as night was falling, we stopped for some wonderful chowder in Camden Maine, then home to fall into bed, tired and happy after a full day of sightseeing!