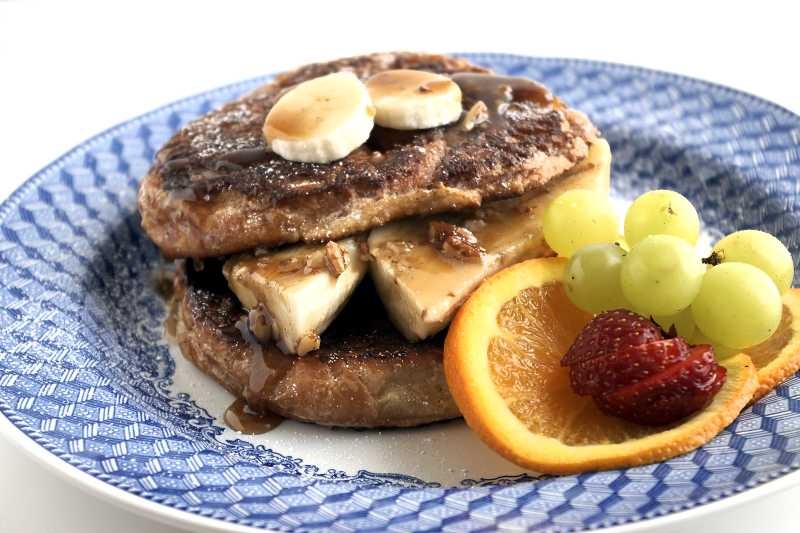 Ruth is always looking for new recipes and making changes (adjustments?) to existing recipes. A while back she was on a croissant French toast track – trying a variety of croissant French toasts, similar to our tried-and-true Strawberry Croissant French Toast, and she came across her current favorite (repeat guests will know that Ruth's favorites come and go, but they're always wonderful!).
These are also a favorite with the guests, so give them a try, and let us know how you like them!
Bananas Foster French Toast
4 Servings (can be doubled/tripled, easily)
2 large eggs
1/2 C whole milk (can use 1/2 & 1/2)
1/4 t (or more, to taste) cinnamon (we like a lot!)
1 t vanilla extract
4 large croissants, cut in half
3 T unsalted butter
1/2 cup brown sugar
1/2 cup maple syrup
1 T dark rum (or 1/2 t rum extract)
1/4 t cinnamon
1/4 C chopped pecans
1 1/2 C bananas, cut into 1/2 inch thick slices
Batter:
In a shallow dish, whisk together eggs, milk, cinnamon and vanilla.
In a large skillet or griddle, melt some butter over medium-high heat. Dip
croissant halves in egg mixture to coat both sides. Using a fork, lift
croissant from custard and let excess drip off a little. Place croissant
halves in hot skillet/griddle. Cook 2-3 min. per side or until lightly
browned. (you can keep them warm in 350 deg. oven, but they will deflate a
little if left too long)
Meanwhile, in a large saute pan over medium heat, stir together butter, brown sugar, maple syrup, dark rum, cinnamon and pecans. Stir occasionally and when mixture is syrupy, toss in fruit just till heated through, about a minute or so. Spoon over French toast and garnish with powdered sugar and a few pieces of banana and dollop of whipped cream.