The charming village of Port Clyde is a busy lobstering community, near the tip of the St. George peninsula, and has access to both Muscongus Bay and Penobscot Bay.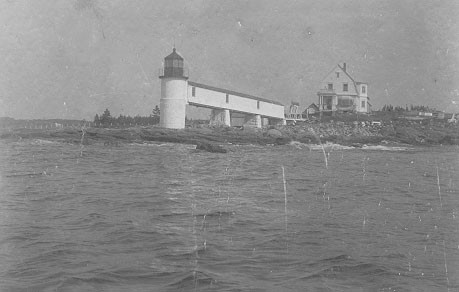 The lighthouse was originally constructed in 1832, to guide mariners into and out of Port Clyde harbor. The present 31 foot tower was built in 1857. The "new" keepers quarters were built in 1895, after fire destroyed the original keepers' house.
Despite being located at the entrance to a harbor, rather than in a major shipping channel, Marshall Point lighthouse has seen its share of maritime disasters. In 1886 a steamer was wrecked on a nearby ledge, but all passengers and crew safely escaped. In the 1920's another steamer struck the ledge, and the crew attempted to escape in a small boat. The boat capsized, and all were lost. Ironically, they would have been saved if they had remained aboard the steamer, as it did not sink.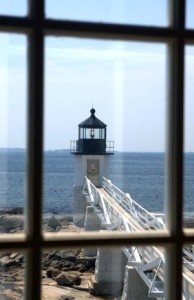 Marshall Point lighthouse was electrified in 1935, and automated in 1971. The ground floor of the keepers house now contains the Marshall Point lighthouse museum.
Although the light was automated, and there was no need for a traditional lighthouse keeper, Thomas and Lee Ann Szelog applied to live as tenants on the second floor of the keepers house, and did reside there for 14 years, from 1989 to 2002. They published a photographic journal of their time at Marshall Point as Our Point of View.
Many may recognize Marshall Point lighthouse from the film, Forrest Gump, as it was the lighthouse where actor Tom Hanks ended his cross-country run. A photo of Hanks hangs in the lighthouse museum.