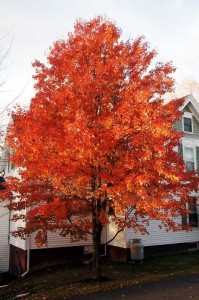 Every year our red maple across the driveway is the last to turn colors (it began only a couple of days ago), and one of the last to drop its leaves (should be good for another week or so, depending on wind, rain, etc.).
This morning, with the early morning sun coming up on it, the leaves seemed to glow a deep red and orange. What a beauty that tree is!
It is always with a tinge of sadness that we see it turn colors, however, as that is also the sure sign that autumn is nearly over, and winter will soon be here. Of course, the prospect of winter brings its own pleasures!
First, we have Sparkle Weekend, the first weekend in December, with parade, festival, L.L. Bean's Northern Lights, and more! Then there is all of the traditional Christmas shopping and events, followed by New Year's Eve and the huge celebration to ring in the new year. And then we start all over again, with January and snow and all that can be done with cross-country skiing, snowshoeing, and more!
All that, from one little tree!