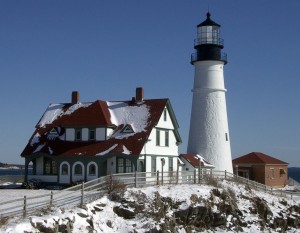 Portland Head Lighthouse
As always, the Christmas season kicked off this year with Sparkle weekend – the first weekend in December. L.L. Bean had lighted their huge Christmas tree a week or so beforehand, with the beginning of their annual Northern Lights Celebration.
Sparkle starts with a parade, with Santa Claus arriving on a Lobster Boat, all the shops and B&B's are decorated with lights, and there are sales and activities for all ages.
Yesterday we had our first snow that lasted more than a few hours, so the Christmas spirit is in the air!
One of our favorite things to do is to visit some of the Maine lighthouses, to see them with their wintry snow coats! It is a completely different view to see them in winter, when we're so accustomed to seeing them in warmer weather.
Give it a try! You'll enjoy your visit, and the photos you can get are like nothing you'll see in the summer months!