But is isn't reindeer we're hearing on the second day of this project. It is "a whole lotta shakin' goin' on!"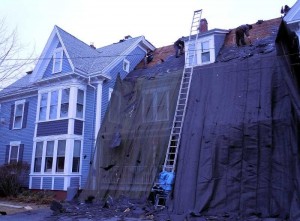 Tarps drape the guest entry to protect it from falling shingles.
This morning the crew is over the middle part of the house, and the entire place is reverberating with the pounding and scraping noises that accompany the removal of the old shingles. We can hardly wait until they get to the back of the house, where our living area and office are located!
The front section of the house is nearly completed, as you can see in the photos. The shingles are coming off the center section over the guest entry, which we hope will be nearly completed today.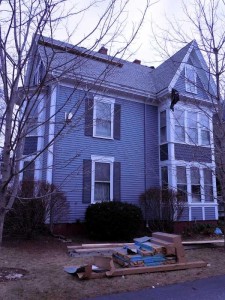 The front section is nearly complete.
The last section is the barn, which is very large (not as barns go, but as houses go), so may take more than one day. In addition, our property slopes down at the rear of the house, so the height from the back of the barn roof to the ground is not just three stories, but four(!).