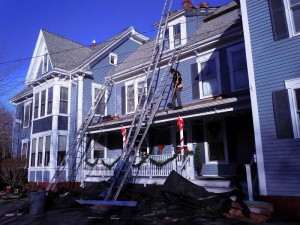 The front section is all finished except the cap.
Day three of the project to replace the roof dawns bright and cold! It was only about 8 degrees F last night, and this morning it was 12F when the crew arrived to begin working.
When they completed the front section of the house, they noticed that the supplier had sent the wrong color for the cap shingles (the ones that run along the peak), so those have to be replaced.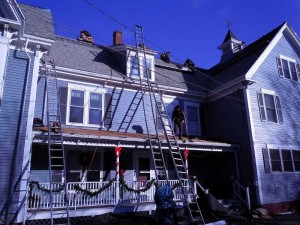 The barn and area above the guest entrance are the target for today.
Most of the middle section of the house is completed, and about 1/3 of the barn (it was really weird to shower this morning with hammers pounding directly overhead – it sounded like they were coming in through the roof!). The crew hopes to finish tomorrow, but weather will play a role in the completion time.