Are you searching for the perfect Valentine's gift for someone special? We have the answer, and it is a romantic getaway in Maine!
Why would someone want to visit Maine for a romantic Valentine's getaway? Let me count the ways!
1. Snuggle in your romantic fireplace room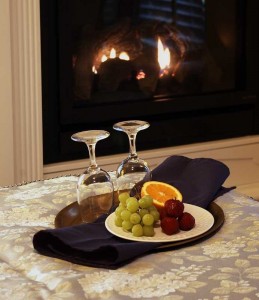 There is nothing more romantic than snuggling up with your sweetheart in one of our lovely rooms, with a warm fire and watching the snow softly fall outside your window. Of course, we can't guarantee the snow, but we do have fireplaces in three of our romantic queen rooms (all with private, en suite, baths, just waiting for you!
2. Enjoy a fabulous breakfast each morning
We are well-known for our wonderful breakfasts – and with good reason. Each morning you'll enjoy a delightful new breakfast – even if you've stayed with us before, we rarely serve you something you've had previously. We alternate between a savory main dish one day (perhaps a quiche or baked eggs, or one of our newer treats) and a sweet dish the next (one of our many French toasts, baked or maybe a croissant French toast, or maybe we'll experiment with something new).
Of course you'll start with either a hot or cold fruit dish, and we serve freshly baked muffins or scones to accompany them. There are also a selection of fruit juices, as well as French press coffee or a variety of teas.
3. February shopping in Freeport is fantastic
If you thought the after-Christmas sales were over, you've never been to Freeport in February! With nearly 200 stores along Main Street (nearly all are within walking distance of Brewster House), there is almost everything you can imagine. These retailers know that people expect bargains after Christmas, but they are also cagey enough to hold their best prices for even later – when there aren't so many shoppers around.
After Christmas the sales were as much as 40-60% off, but in February many stores have at least another 50% off those prices, as they clear their merchandise to get ready for the spring season.
You can stroll down the street after your breakfast at Brewster House, shop these bargains, and return, with enough time left in your day to see more of the area.
4. Maine is a Winter Wonderland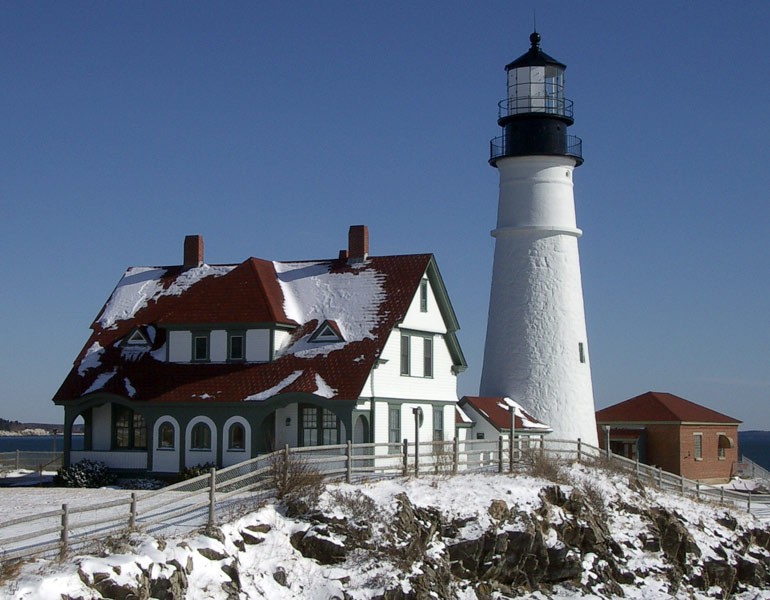 As this is written, we're looking out the window at a new-fallen snow of about 1/2 inch, sitting lightly on the trees around us. A walk around the neighborhood will allow you to explore this enchanting fairyland for yourself.
If you're more adventurous, you can snowshoe or cross-country ski at nearby Wolfe Neck State Park, or on the groomed trails of Pineland Farm. If you need equipment, of course L.L. Bean carries it all (you may even find it at a bargain in their outlet store in Freeport), or you can rent it at Pineland Farm.
Farther afield, there is downhill skiing a couple of hours away in the mountains, or you can visit several of our lighthouses – which take on a unique beauty in winter that so few people are ever fortunate enough to see.
5. It is easy to get to Maine
If you're not already here, living the way life should be, getting to Maine is easy. Some folks worry about driving in February, but the ability of our road crews to clear the snow is nothing less than amazing. Snow is removed from our roads almost as quickly as it falls, so being snowed in or trapped just doesn't happen (though that has something of a romantic element to it, as well!).
Here in Freeport, we're only a two hour drive from Boston, or a bit less from Manchester, NH, and 5-6 hours from the greater New York area (depending on your location), so driving here for a couple of romantic nights away is very feasible. You can also fly to Portland (or, if you're a bit farther away, Boston or Manchester may score a better airfare deal), then rent a car and you'll be here in no time.
You can also take the train, as the Downeaster runs from Boston to Portland, ME several times daily, making the trip in just a bit over two hours. Work has begun to extend the train to Freeport and beyond, but for now you'll want to rent a car at the station in Portland.
What are you waiting for? Take a look at our availability calendar to see when you can schedule your romantic getaway in Maine!