Not that Maine won't be watching the NCAA basketball playoffs (New England is filled with great college teams!), but there is another March madness in New England: Maple Syrup!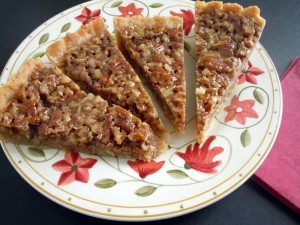 The sap begins to run, usually in late February and March, with a large maple tree producing as much as 60 gallons of sap! The sap will be quickly processed, boiling it to make it more and more concentrated. When it reaches the correct temperature, it is filtered to make it clear, then packed in sterile containers for distribution world-wide.
To celebrate our Maple March Madness, we'll be serving something with maple every day in March! We started with Maple-Pecan Sticky Bars (pictured) from Epicurious. Scott says they're delicious!
Our supplier of pure Maine maple syrup is Maple Valley Farms in Jay, Maine. On Maple Syrup Sunday (March 27, 2011) they, like other Maine maple syrup producers, host a big event at their farm, celebrating the season, and offering tastings, as well as syrup you can take home, fresh from the vat.
The Maine Maple Producers Association has a map of Maine syrup producers by county, so if you visit, you can easily find a producer of pure Maine maple syrup to visit on Maple Syrup Sunday!
If you're thinking of coming, make plans for the entire weekend – Flavors of Freeport is Friday and Saturday, March 25-26, so you can visit the Chef's Signature Series on Friday, the Celebrity Waiter Luncheon on Saturday, and top off your visit with Maple Syrup Sunday on March 27! See you then!