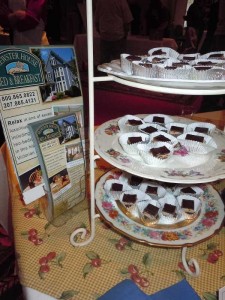 This year for Flavors of Freeport, Ruth made Nanaimo Bars – a no-bake, layered cookie, with chocolate (how can you not love a no-bake bar with chocolate?). It was a huge hit – with one lady coming back five (we counted!) times for more!
Without further ado, here they are
Nanaimo Bars
Bottom layer:
1/2 C unsalted butter
1/4 C granulated sugar
5 T cocoa powder
1 egg, beaten
1 3/4 C graham-cracker crumbs
1 C coconut flakes (can use reg. coconut)
1/2 C finely chopped almonds
Middle layer:
1/2 C unsalted butter, room temp.
3 T whipping cream
2 T vanilla custard powder or instant vanilla pudding mix
2 C powdered sugar
Top layer:
4 squares (1 oz each) semisweet chocolate (or 4 oz choc. chips)
2 T unsalted butter
1. For bottom layer: Melt butter, granulated sugar and cocoa powder together
in the top of a double boiler over simmering water. Add the egg and stir
constantly until thickened, about 2-3 min. Remove from heat. Stir in graham
cracker crumbs, coconut and almonds. Press firmly into an ungreased 8×8 pan.
Refrigerate while making next layer.
2. For middle layer: Cream together butter, cream, vanilla custard powder
and powdered sugar. Beat until light. Spread over bottom layer. Refrigerate
while making next layer.
3. For top layer: Melt chocolate and butter over low heat. Cool. When
cool, but still liquid, pour over second layer and use offset spatula to spread
over entire surface. Chill in refrigerator about 15-20 min., then carefully
cut into bars.
Will stay for several days in airtight container in refrigerator (I put wax
paper between layers)