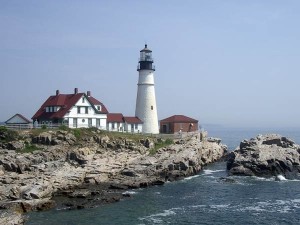 At our Freeport Maine Bed & Breakfast we've recently seen quite a few bookings for our specials and packages, especially our Maine Lighthouse Tour package. What is the attraction? Let's see if we can find out.
First of all, there are over 60 lighthouses in Maine (check out our Maine Lighthouse Map for the locations), so seeing all of them in a day is somewhat challenging – especially when you consider that some are well off-shore! So we've made some hard choices, and come up with a tour that will take all day if you do it all, but will take you to seven lighthouses (and you'll pass tantalizingly close to a few more), and some of the most beautiful and dramatic views along the Maine coast.
Portland Head Light
We begin by getting on Interstate 295 in Freeport, and heading south toward Portland. We'll exit at Forest Avenue, wind through town a bit, cross the Casco Bay Bridge, and navigate through the beautiful and stately old homes of Cape Elizabeth, until we reach Fort Williams Park. Entering the park (Free Admission!!), we pass old barracks, a playground, the parade ground, and park near the gun battery. We can explore the grounds, including the old stone house, and another fort, or sit on a hill overlooking the lighthouse, watching kites and sailboats. Portland Head was originally commissioned in 1785 and first lighted in 1790. There is a nice museum in the keeper's house.
Cape Elizabeth Light (Two Lights)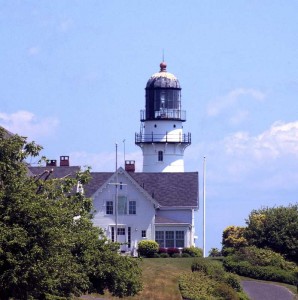 Turning left as we leave the park, we'll make our way through Cape Elizabeth to the road which leads to Two Lights State Park, but rather than going into the park, we'll pass it by and go to the end of the road, where we can see the twin lighthouses known as "Two Lights," built in 1828. If there's room, we'll park in the dirt lot at the end of the road, then walk out the rocks to get a good look back at the towers, and, if the weather is clear, back down the coast to Portland Head Light. Climbing a small bluff, where Two Lights Lobster Shack is located, there is a great view of the lighthouses, and also out across the bay.
Cape Neddick Light (The Nubble)
We have a choice of returning to US-1 to continue south, or getting on Interstate 295/95, but in either case we'll want to get back to US-1 at Biddeford, then take the drive from Kennebunk to Kennebunkport on Route 35. This pretty drive goes past some beautiful old homes with interesting histories. If you like, you can also take a small detour to Cape Porpoise, hidden away just above Kennebunkport, and home of Goat Island Light, just offshore.
Continuing back to US-1 from Kennebunkport, you pass through several interesting towns – Wells, Ogunquit, York and York Beach, before winding toward the sea and Cape Neddick Lighthouse, built in 1879 (which, interestingly enough, is located in York Beach, not the town of Cape Neddick). The lighthouse is located just offshore on a rocky island, hence the nickname "The Nubble." The keeper used to cross via boat (and it could be waded at low tide, but that was treacherous, until a gondola and cable system was installed.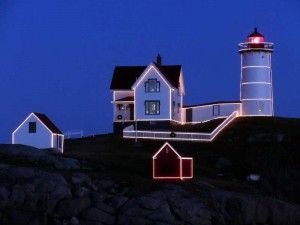 Cape Neddick Lighthouse is lighted in white lights at Christmas, but since many who visit there choose to come in warmer weather and would otherwise never see its decoration, it is lighted again for the month of July each year.
In our next installment, we'll head north of Brewster House to see more lighthouses!