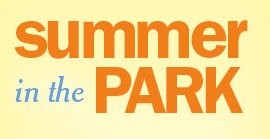 Every year visitors at our Freeport Maine Bed & Breakfast enjoy the concerts and other offerings provided by what was once known as the L.L. Bean Summer Concert Series, and is now known as Summer in the Park.
Why the name change? A year or so ago L.L. Bean decided to mix it up a bit and include other summer events along with their concerts, so the name change now appropriately describes the mix of free concerts, food festivals, Shakespeare in the Park, etc., that now takes place on Saturdays, at L.L. Bean's Discovery Park in Freeport, Maine.
Our guests love to borrow our lawn chairs, and walk to Discovery Park, where they can sit on the lawn and enjoy free concerts, and all the other activities.
This year's Summer in the Park schedule begins this weekend, with the Fourth of July Celebration, and ends with a Labor Day weekend concert featuring the classic rock favorite, America.
This summer's concerts include:
Ryan Shaw, July 2, 7:30 p.m.
Randy Judkins, July 3, 3:00 and 5:00 p.m.
Maine Academy of Modern Music, July 3 (starting at 6 p.m.)
The Mallett Brothers Band, July 3 (starting at 6 p.m.)
Red Horse, July 4, 7:30 p.m.
Court Yard Hounds, July 16, 7:30 p.m.
Amos Lee, July 30, 7:30 p.m.
Rickie Lee Jones, August 13, 7:30 p.m.
Southside Johnny, August 26, 7:30 p.m.
America, September 3, 7:30 p.m.
The other scheduled events include:
Fourth of July Celebration, Saturday July 2 – Monday July 4
Food Festival, July 9
KidsFest, July 23
Shakespeare in the Park, August 2-12 (except August 8)
Shakespeare's Kids, August 9-11
Dog Days of August, August 20
Hunting Expo, August 26-28
The Summer in the Park series from L.L. Bean in Freeport promises to be great fun for all!