Many of our friends know that, while we often get (and appreciate!) compliments on our web site, we have wanted to upgrade the photos, especially the photos of the food and the rooms, to top-notch professional photos.
This past week we were able to do just that!
We worked with Jumping Rocks Photography, widely regarded as one of the best photographers of small lodging properties – in no small degree due to their past ownership of a highly regarded Inn. We met Mark and Matthew at an innkeeping conference over a year ago, began talking, and eventually scheduled their visit for early September of this year.
Before their arrival, we were given a list of things to prepare, from props (pillows, flowers, etc.) to scheduling, plans were made to ensure that the time the team was here was used most effectively.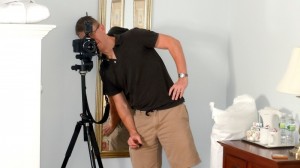 When they arrived, Matthew and Mark went right to work, learning about Brewster House's rooms, our plans for food shots, and arranging to work around occupied guest rooms. We had scheduled a day and a half of shooting, and had wanted to include some exterior shots, but rain made that unlikely (but also meant we had more time for the other shots). The first day they were able to shoot a couple of rooms, getting things well underway.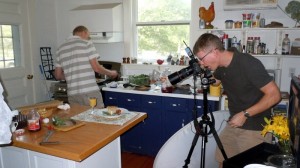 Following breakfast the next morning, Matthew and Mark shot several more rooms, then we all re-convened in the dining room and kitchen for some food shots. The afternoon saw them back in the guest rooms, getting more amazing shots.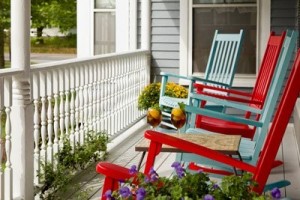 The final morning provided time to finish the last of the guest rooms, and, with a bit of parting sunshine, some quick shots on the guest entry porch.
We're thrilled with the results, and have already put many of them up on the Brewster House web site. You'll find them on our home page, each of the rooms pages, and the breakfast page, as well as appearing here and there throughout the other pages of the site.
Look for changes to the website, itself in the winter months, as we make even more use of the wonderful photos from Jumping Rocks.