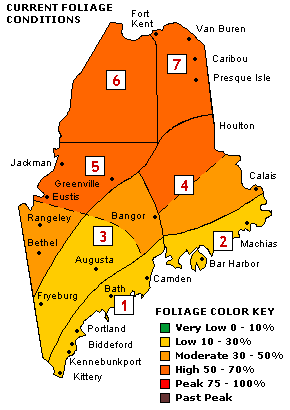 This week's fall foliage report from the State of Maine reports that fall colors are well underway, with the northern part of the state having a high degree of color.
True to prior patterns, the color has begun in the western and northern parts of the state, and will be moving east and south over the coming weeks.
The highest color areas thus far are north and west of Bangor, with the areas from below Bangor to the coast and southern borders showing low to moderate color changes.
We look for good color to be present in spots throughout the more populated areas, increasing over the next two weeks, when we would normally expect to see peak color along the midcoast region.