What a beautiful time of year to be in Freeport! The leaves have fallen, we've seen a couple of snowfalls (though they've since melted), and the crowds of summer vacationers and shoppers have gone back to school, jobs, etc.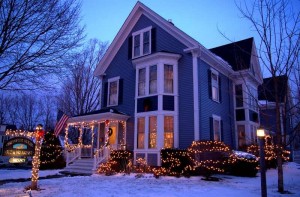 It's time for us to put away the fall decorations and begin decorating the house for Christmas. The carols are playing in the house, and the dining room, entryway and living room, as well as the guest rooms, themselves, take on a festive air.
This is the time when our "old friends" — the guests who come back frequently, or even annually — come to Brewster House. They've seen the beauty of the Maine coast in summer many times, so they don't mind if the weather isn't perfect. They've visited most of the lighthouses and lobster shacks, so they don't mind having their lobster at one of the fine Freeport restaurants instead of along the water.
These guests are here to relax, do a bit of Christmas shopping, and remember the good times they've enjoyed here over the years, and maybe take in a bit of the L.L. Bean Northern Lights Celebration (through New Years' Eve).
We always look forward to these return visits – it's a bit like having your extended family visit – whether they're here to visit their own family, do a bit of shopping, or just looking for a bit of relaxation before the holidays.
We hope to see you here!