It seems early to be thinking about fall foliage, doesn't it? In much of the northeast, except for that weird week or two recently when the temperatures were near 80°, we're just beginning to finish mud season and head into spring.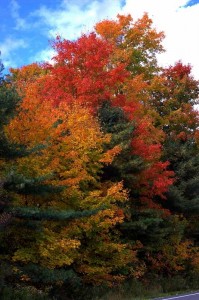 However, one of the most common questions we've received in recent weeks is "When is the best time to visit for fall foliage?"
The short answer is "it depends" but since we're essentially talking about the weather, that should come as no surprise.
The State of Maine has a foliage website which not only reports the current status of foliage from about mid-September through the season, but it also has a chart of historical foliage data, showing when the foliage changed for each of the various regions of the state.
Freeport is in Zone 1 on the chart, so a quick scan shows that our peak foliage has historically been between the 14th and 20th of October.
There are a couple of things to keep in mind about the dates, however. First, the foliage season in Freeport usually extends from about the first of October (sometimes the last week in September) through the end of October (sometimes slightly into November). That means that there will usually be good foliage viewing in our area for at least four weeks, though the peak may only last a few days.
Second, as the chart on the Maine foliage website makes clear, the peak foliage occurs at different times in the different regions of the state. In a very general way, the peak moves from north to south and west to east. Having said that, there are areas in each region that will appear "out of step" with this pattern, due to the temperature, amount of sun or shadow, etc. Consequently, all through the foliage season there can be areas of beauty that are either early or late for their region.
Finally, one other thing to consider is the calendar. Since the peak foliage season is near mid-October, it conflicts with several other dates. Three local colleges have homecoming or parents' weekends between late September and late October. That can make competition for available lodging very stiff. Add to that the Columbus Day (US – Candadian Thanksgiving) holiday in the middle of it, and you'll find it more difficult than usual to find a bed and breakfast.
Our late-September and October weekends already have some bookings, but as of this writing there is still plenty of availability for our foliage weekends. Check our availability and book early to get the dates you want. Don't forget to consider our Fall Foliage Surf & Turf special – called "A steal of a deal" by Smarter Travel magazine.