Regardless of how early our Freeport Maine fall foliage may be this year, one of the best things to do near Freeport is to tour the foliage areas and check out all the fall colors.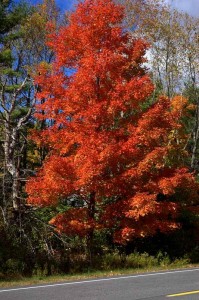 There are a lot of great books on great scenic drives in Maine, and many include drives to see fall foliage. Far be it from us to discourage the use of these books. We have some of them, and we use them, too!
One thing we suggest, that doesn't seem to be in any of the tour books we've seen, is to combine your drive with something else that interests you. For example, you might take a look at our map of Maine lobster shacks and create your own driving tour through the foliage areas, from one lobster shack to the next. Or, you might combine visits to some of our wonderful Maine lighthouses with a foliage tour. Another idea would be to combine both lighthouses and lobster shacks with fall foliage – what an idea!
You can accomplish some or all of those combination drives to see fall colors in our very popular Fall Foliage Surf and Turf package, which provides for two nights at Brewster House, a $50 gas card and our own driving tour of foliage areas (with turn-by-turn maps), plus a gift card for shopping at L.L. Bean (and of course you also have all the other Freeport outlets to visit), and a gift certificate to Azure Cafe, and more.
If you prefer, just explore the area's scenic back roads and you're sure to find some beautiful areas!
Ruth & Scott
Brewster House Bed & Breakfast, Freeport, Maine