Fall colors in Maine have begun, ever so slightly, to change to the golds and hints of red that promise a wonderful, vibrant foliage season.
Yankee Magazine's foliage map shows change beginning throughout most of New England and all of Maine. The weekly reports on the Maine foliage site indicate (as of last week's report) that the western and northern parts of the state had begun to change. No doubt this week's report will show more progress in those areas, as well as some change in the eastern and southern parts of the state.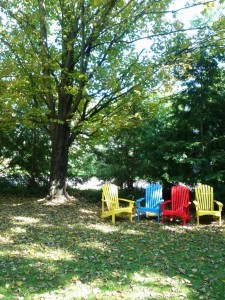 In our own back yard (literally!) we have one tree that has partially changed to yellow, and begun to shed some of its leaves. In addition, our "yardstick" tree, across the street, has now reached its brilliant colors of yellow and red that it normally displays in late August.
The fall colors normally progress from west to east and from north to south. So far, they are following that pattern, perfectly. They can move quickly, though, depending on the weather.
Lately we've had cool nights and crisp mornings, which make for excellent foliage, but also make it appear quickly.
Don't miss out – our Fall Foliage Surf & Turf package starts this week, and runs through October.
Ruth & Scott
Brewster House Bed & Breakfast, Freeport, Maine