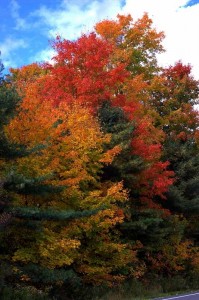 Trees on Bailey Island
Often our guests looking for things to do near Freeport want to see the "authentic" Maine coast. One of our favorite places to go is on Route 24 from Brunswick, across Great Island to Orrs Island and across the Cribstone Bridge to Bailey Island.
The scenery is wonderful, and small vacation rental homes are intermingled with homes of lobstermen, with their traps and buoys dotting the lawns. You can view the water from the road much of the way, and sometimes on both sides of the road at once. It is a photographer's paradise!
At the end of the road, at Land's End (nothing to do with clothing), you can see the rocky shore, view the islands offshore, the fishermen's memorial, see Halfway Rock Lighthouse in the distance, or, much nearer, the memorial to the sinking of a tourist boat, decades ago. You can also see Eagle Island in the distance, where Admiral Peary (the arctic explorer) once lived.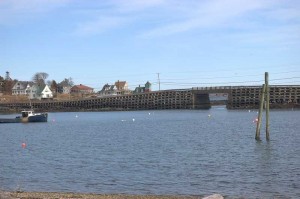 Cribstone Bridge from Cook's Lobster
Of course, no trip to Bailey Island would be complete without a stop at Cook's Lobster for a wonderful meal. Our latest trip we enjoyed their fine hospitality, and views of the Cribstone Bridge, while savoring a lobster casserole and broiled scallops. Oh, and don't leave without trying the homemade blueberry pie (made with Maine wild blueberries!). Yum!
Ruth & Scott
Brewster House Bed & Breakfast, Freeport, Maine