Recently several guests have stayed with us and visited Freeport for the first time. They have all had similar reactions. The first reaction is "Wow! We didn't know there was so much Freeport shopping!" You see, not being from the northern New England area, they were unfamiliar with Freeport, and many had no idea that it was the home of L.L. Bean.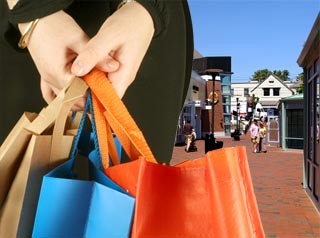 The second reaction, for all of them, was, "We had no idea there was so much to do within a short drive of Freeport! What a great location to base our stay, so we can take day trips to see lighthouses, visit lobster shacks, beaches, etc." They had no idea what a perfect location Freeport is for sightseeing.
We've decided to make Freeport a little more accessible for our guests by setting up our Fall Freedom package, with 3 nights for the price of 2! This provides the ideal opportunity to see the rugged Maine coast, visit lighthouses (there are at least a dozen within about an hour and a half drive of us), hike along the water or in the hills in our state parks, and more. Or, if you prefer, take a hike through Freeport and visit the 5 L.L. Bean stores (four of them never close!) and over 150 other shops and restaurants, all within a few blocks of us!
With three days here, you can really cover a lot of ground. Here is our suggestion:
Day 1 (arrival)
Arrive by mid-afternoon and check-in at Brewster House
Spend the afternoon exploring Freeport outlets and shops
Have a wonderful meal at one of Freeport's excellent restaurants
Day 2
Have a delicious gourmet breakfast at Brewster House
Go north to visit lighthouses, islands and beaches
Have lunch at an historic and authentic Maine diner
Spend the afternoon exploring coastal harbor towns
Dine along the way, or in Freeport
Shop a bit before the end of the day
Day 3
Another delicious breakfast at Brewster House
Shop a bit to make sure you haven't missed anything
Drive to the south to see lighthouses
Explore Portland's Old Port district
Explore Kennebunkport and/or Kittery and/or Ogunquit, etc.
Day 4 (departure)
One last delicious Brewster House breakfast
One last shopping trip before checking out.
Bid goodbye to your new friends, and promise to return soon!
When will we see you here?
Ruth & Scott
Brewster House Bed & Breakfast, Freeport, Maine