The New England states are known for many things – among them their covered bridges.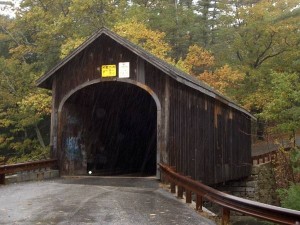 Babb's Bridge
Like most of the states in this area, Maine has its share of the beautiful old bridges, providing shelter in a storm while providing a safe crossing of the many rivers around the state. And several are within a reasonable drive from Brewster House. Each has its own interesting past, as well as an unusual beauty, providing a unique window into the transportation of a bygone era.
The nearest of these covered bridges is Babb's Bridge (built in 1864), in South Windham. It is only about 45 minutes drive from Brewster House.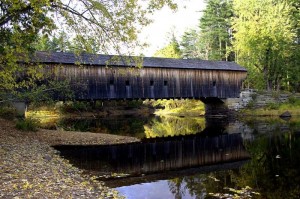 Hemlock Bridge
The next nearest bridge, about an hour and a half away, is the Hemlock Bridge (1857), near Fryeburg, Maine. Don't be surprised when, to visit this bridge, you must take an old wagon road (it feels as if you are driving through a farmer's field). It is well worth the adventure!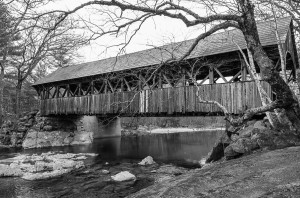 Artist's Bridge
Another bridge, somewhat hidden from the casual visitor, is Artist's Bridge (built in 1872, and so-called because of the number of paintings done of this beautiful bridge). Not far from the Sunday River resort, near Newry, Maine, this bridge is just off the current roadway, but requires a couple of side trips to find it. It is about 2 hours from Brewster House.
The State of Maine's VisitMaine website has a full list of Maine's covered bridges.
Ruth & Scott
Brewster House Bed & Breakfast, Freeport, Maine