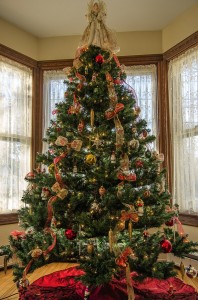 As the Christmas season is beginning, it is time to think about all those wonderful Christmas cookie recipes you have tucked away somewhere. One we use year 'round, but is especially good at Christmas, is our Lemon Sugar Cookie recipe. Ruth doesn't even like lemon cookies (can you believe it? I know!), but she LOVES these!
Ingredients:
2 3/4 cups all-purpose flour
1 teaspoon baking soda
1/2 teaspoon baking powder
1/2 teaspoon salt
Zest of 2 large lemons
1 1/2 cups granulated sugar
1 cup unsalted butter, at room temperature
1 large egg
1/2 teaspoon vanilla extract
2 tablespoons fresh lemon juice
1/2 cup granulated sugar for rolling cookies
Directions:
Preheat oven to 350 degrees F. Line baking sheets with parchment paper or silicone baking mats. Set aside.
In a small bowl, whisk together flour, baking soda, baking powder and salt. Set aside.
Using a mixer, beat together butter and sugar until smooth and creamy.
Add lemon zest, egg, vanilla extract, and lemon juice. Mix until combined. Gradually blend in the dry ingredients.
Roll rounded tablespoons of dough into balls and roll in sugar. Place on prepared baking sheets, about 1 1/2 inches apart. Bake 8 to 10 minutes or until cookies are slightly brown around the edges and set. Let cookies sit on the baking sheets for two minutes before transferring to a cooling rack.
Yield: 3 dozen cookies.
If you want to make them ahead, after Step 4 you can roll the rounded tablespoons of dough into balls and freeze on baking tray. When ready to use, roll the balls in sugar and then bake as indicated above.
Enjoy – and Merry Christmas!
Ruth & Scott
Brewster House Bed & Breakfast, Freeport, Maine