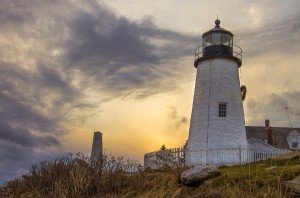 Sunset at Pemaquid Point
We haven't done as many posts about Maine lighthouses this year as in some years past. This isn't because we've lost interest, or for any other reason but that we were afraid we might be boring our readers!
As summer vacations and fall foliage visits have gone by, we've had a bit more time to explore (as can readily be seen by the photos of Wolfe's Neck Woods State Park in a post from just over a week ago). Last week we were able to get out to one of our favorite lighthouses, Pemaquid Point, at sunset.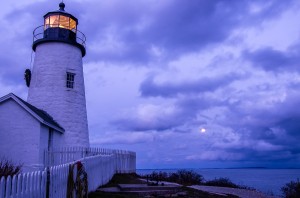 Pemaquid Point Moonrise
We went looking for one of those spectacular shows of color that a great sunset can bring. Instead we found a much more subdued, but very interesting, sunset. But there was an added bonus. Just after sunset was moonrise, so we were able to get a nice photo of the lighthouse at moonrise, as well.
Ruth & Scott
Brewster House Bed & Breakfast, Freeport, Maine