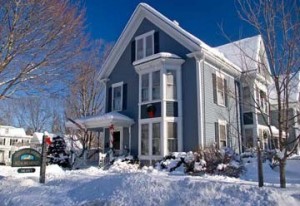 As 2012 draws to a close, we pause to take time to be thankful for the wonderful blessings we've experienced this year – our busiest year ever! We are thankful for our wonderful guests and friends, and for the many guests who have become friends over the years.
With the passing of time, many guests who are dear to us have had to stop traveling, for reasons associated with aging and health. We think of you often, and with great fondness, and are very grateful to have known you.
One announcement is needed, as we just revised our January special today – Book our Wild Winter Wonderland special for a January visit, and get a bigger discount the longer you stay! You'll get a personal plate of Ruth's wonderful cookies for a one night stay, a 20% discount on a two night visit, and 30% off a three or more night visit.
We are very grateful for our guest who return, because, over time, we all get to know each other better, and relationships grow. Brewster House is about the people, and the people are what makes it so enjoyable to be here!
We can't thank you enough for your kindness, friendship and loyalty, and we certainly look forward to seeing many of you again in the New Year.
We wish you and yours a very wonderful Christmas and a superb New Year!
Ruth & Scott
Brewster House Bed & Breakfast, Freeport, Maine