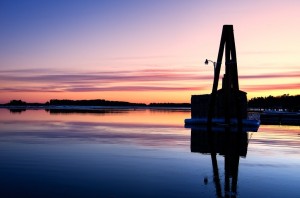 The winter storm of "potentially historic" proportion (and unofficially given the whimsical name "Nemo" by the Weather Channel) is behind us, leaving almost two feet of white powder in its wake.
We heard the 40-50 mph wind gusts all through Friday night, and found they had strewn snowdrifts erratically through the yard. One side of our house was nearly bare of snow – with a clear view of the grass, while the driveway had drifts approaching four feet, and nearly five feet in one place.
We spend much of Saturday running the snowblower to clear the driveway for our guests, most of whom enjoyed huddling by the fireplaces in the cold temperatures. We were very grateful not to have lost power during the storm!
Sunday, after seeing off the last of the guests, we took a drive around the area and enjoyed taking photos of the fresh, clean snow.We also ventured down to the South Freeport pier to get the sunset photo at the top of this post!
Hope to see you soon, to get your own photos of Freeport!
Ruth & Scott
Brewster House Bed & Breakfast, Freeport, Maine