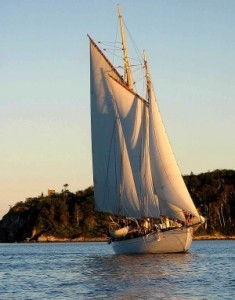 Our friends at Portland Schooner Company have already begun their 2013 season. That is always a happy time for us. It means good weather is here (yay!), and that our guests can now book a two-hour schooner cruise during their visit. We don't like telling our guests that they are just a few weeks too early for a schooner cruise!
Portland Schooner's two boats, Wendameen and Bagheera, sail from Portland harbor, several times each day, taking guests through the network of islands and, fair winds permitting, down the coast to Portland Head Lighthouse. Seeing that beautiful lighthouse from the sea is an experience one rarely gets!
If you enjoy sailing, or photography, or both, do yourself a favor and book a schooner cruise on  your next visit to Maine. In fact, at Brewster House we offer a special called "Sail into the Sunset" that includes a two-hour schooner cruise for two from Portland Schooner Company (and other special items, as well)!
Ruth & Scott
Brewster House Bed & Breakfast, Freeport, Maine