Monthly Archives:
July 2013
July 16, 2013 by Kelleigh Dulany
OK, let's move to the wild side just a bit. I want to present a couple of vacation adventure ideas that I know some of you will consider, THEY ARE BOTH "REAL MAINE!"
We've happily befriended some local folks who manufacture custom glass & Kevlar kayaks and canoes (not to mention snow-sleds and paddleboards). They are light and beautiful and you can see them crafting them right here in Freeport. They are Lincoln Canoe & Kayak on S. Main St., and they're so smart that they offer you both instruction and the use of their beautiful boats via their Lincoln Outdoor Center, such that you will realize that you need and deserve one. You can simply rent a kayak or canoe, or paddleboard, join them on a ½ day tour or even a multi-day "explore Casco Bay" trip in early August or late June. Their Kayaks are the definition of grace and elegance. Please tell Emma or Mark that the Brewster House sent you! Check out their website,
www.lincolncanoe.com
and store when you're here and you'll see why we're crazy about them!! We can create an unforgettable Brewster stay/ Lincoln kayak adventure package for you.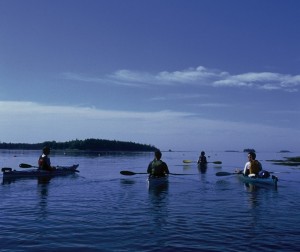 Also got an e-mail today from Magic Falls Rafting Company www.magicfalls.com promoting their $49 Thursdays Kennebec white water rafting adventure. Mary and I have rafted both the Penobscot and Kennebec many times, and will tell you it's a thrill and fabulous way to experience the waterways and wilderness Maine offers. The Forks is a little over 2 hours north of here, the trip leaves at 10:15AM, hits the
big rapids in the Kennebec Upper Gorge and has you back in camp at 1:30PM, so you can easily be back in Freeport for a long hot shower and dinner, and a room as soft and sweet as the Kennebec was wild and woolie. Of course, you could raft these rivers anytime, but the timing and price on this deal make for an excellent one-day side expedition.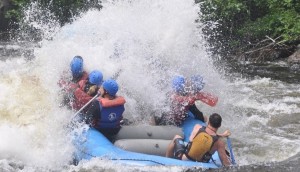 Some of our best times in Maine have been playing outside, so we hope you will try playing in the water here, there's lot of it!!
Scott & Mary
Brewster House Bed & Breakfast, Freeport, Maine
July 2, 2013 by Kelleigh Dulany
Scott & Mary
Brewster House Bed & Breakfast, Freeport, Maine
You know, I've stayed places where trains are so close they blow you out of bed when they roll by…… whistle shrieking again and again, building shaking…….then again, they can be just far enough away that the whistle softly brings you back to a childhood dream, that reassuring distant low rumble rhythmically lulling you off to a deep sleep. That's just how far the Brewster House is from the Downeaster, tracks just north of the Freeport Station, on it's way to the last stop in Brunswick….sort of a natural sleeping potion….
It's been a crazy, busy month for the new innkeepers, but we're getting into a rythym, with two recent rave reviews on TripAdvisor and our five circle rating from same for 2013. Of course, Scott and Ruth Thomas are largely to thank for the latter, but we're just as keen on keeping our guest experience superb and the house comfortable and breakfasts, to die for! Read the reviews if you don't believe me!
But back to the subject I started with, the Downeaster is becoming a very popular way to catch a quick stress-free dose of Freeport. Recently Jeremy and Melissa came to us from Texas via the Logan and the Downeaster, and they had a bang-up time in Freeport. They helped us understand the need to create that pick-up/ drop-off link to the station in town (maybe 2,000'). Of course, it's where it's busy, we're where it's quiet, yet only 3 blocks from shopping, restaurants and all that Freeport has to offer.
The train leaves North Station (under The Garden) at 9:05 AM and 5:00 PM both weekdays and weekends, arriving here at just after noon, or just after 8PM. Boarding is also possible in Woburn or Haverhill, MA, or beyond in Exeter, Durham or Dover, NH. You can have us pick you and your, bags up (check in isn't till 3PM), then head back to town to do your thing. Likewise, we can drop you off for the evening train back to Boston (7PM weekdays, 6:05 weekends). The round trip is less than $30!! No tolls, no fighting traffic……and YOU CAN ARRANGE TO BRING YOUR BIKE ON THE TRAIN!!