Scott & Mary
Brewster House Bed & Breakfast, Freeport, Maine
Fall in Maine….any New England native knows this is the finest time to be here! Days tend to be cooler, sun bright, 100 mile visibility, air dry, bugs….largely dead, and we haven't even gotten to the blazing yellow, oranges and reds of the maples, oaks and birches here!! Brewster House is surrounded on all sides by Sugar, Norway and Black Maples. In fact, most of Freeport is deciduous trees, so we are smack in the middle of blaze of Autumn color at Brewster House!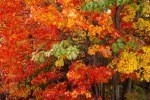 A sample of What to Do!
9/14 –The 4
th
Annual
"Open Lighthouse Day."
The Coast Guard is sponsoring this event next weekend from 9AM to 3PM to allow you to pursue your most inside interests (yes, we have availability). Please refer to this link for details
http://www.visitmaine.com.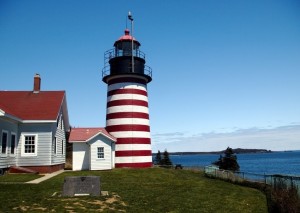 Combine your lighthouse visit with a very high end juried
arts & crafts
fair offered by The Maine Crafts Guild will be held in Scarborough on Saturday and Sunday. For detail, see
www.mainecraftsguild.com.
9/20 – 9/22 – The 142nd Cumberland County Fair, all the entertainment you think a Fair should have, including Bob Marley, a demo derby, lawnmower races, a 4H auction, even a rodeo! See
http://www.cumberlandfair.com
for details. We have one or two rooms open for this weekend, so get while the getting is good!!
9/28 – Check out the
Harvest Dance at Wolfes Neck Farm
here in Freeport from 6 – 10PM with The Mallett Brothers Band for a hot barn dance at the old farm! Gritty's will be offering a cash bar and there will be food trucks on site as well. See
www.wolfesneckfarm.org
. This is the weekend of the
15thAnnual Fall in the Village Art & Music Festival
is full of free music, food and arts,
http://freeportfallfestival.com.
Between leaf peeping and these events, Freeport doesn't get any better than this!! Believe it or not, we do have some availability left for this weekend! YOU BETTER JUMP ON IT QUICK!

9/29 –
The Pemaquid Oyster Fest
for you lovers of lighthouses and the gelatinous shellfish fare. This event is centered in the beautiful village of Damariscotta.
http://pemaquidoysterfestival.com
As you might imagine, having a wine license, it only made sense for us to add real wine to our existing Packages as you might think appropriate. So, whether you are coming here for your anniversary, honeymoon, or even birthday (if wine floats your boat). In the bubbly varieties, we stock both Canella Prosecco and an excellent (but reasonable) California champagne, Gloria Ferrer Brut for your pleasure. Of course, we might be missing a unique special occasion of yours in this list, if so, let us in on how we can enhance that time away for you! If you have a sentimental favorite, our distributor sees us at least twice weekly, so just let us know what your heart desires! Please reference the romantic getaway link from our home page and your options will unfold before your very eyes!!
For a turnkey escape, don't forget to consider our
Special Fall Packages
, the
October Fall Foliage Surf & Turf
and
Fall Freedom Packages
!!
October Fall Foliage Surf & Turf
2 nights lodging
Antique Schooner Cruise for 2
Dinner gift certificate for the Azure Café
$100 LL Bean gift certificate
Maine welcome bag
A self-driving tour of the best foliage areas
A $50 gas card to help with the driving
Fall Freedom(11/1 – 11/24)
Three nights for the price of two (off of our already reduced off-season rates)
For our Veteran friends, know we are working on a special offering over Veterans Day in recognition of your self-less contributions to us all. More on the details to follow!
Hope to see you soon!
Scott & Mary Gile
Innkeepers