Scott & Mary
Brewster House Bed & Breakfast, Freeport, Maine
Friends of Brewster, our suggestion is to save your Christmas money (and any gifts you can put off) and come to Freeport for the weekend after
Christmas to take advantage of all the over-stocking mistakes the retailers represented here made!!
Not only do you get to take advantage of LL Bean & neighbors, but Brewster House has our own BAH-GUN for you!!
Arrive on Thursday 12/26, or Friday 12/27 and we'll offer you 3 days here for the price of just 2!
Not only that, we'll throw in your choice of a Mimosa or Proscecco cocktail with your breakfast on Sunday ON US!!
We'll even handle the recycling from all of your buying victories, and provide you with a 50 gallon bag for your gifts (like Santa's, but polyethylene) and help you wrestle that beast to your car!
Hey, the Wednesday Christmas/ New Yeahs weekday makes this Holiday a bit challenging for we celebrants.
If you are among the fortunate (or committed to partying) who will go away, consider coming to Brewster House on Tuesday, 12/31!
We have OUTSTANDING DINING OPTIONS, both here and in Portland!!
  LL Bean is sponsoring fireworks on New Year's Eve.  
See VisitPortland.com
for all of the WILD goings on in Portland!
We'll not only welcome you with a bottle of sparkly, but will help with "hair of the dog" at Mary's always elegant breakfast with your choice of a mimosa or Prosecco cocktail.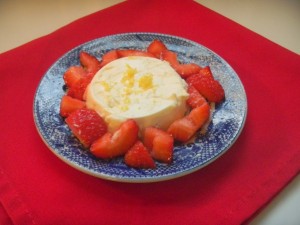 And as a tease, this was the "fruit" offering w/ breakfast a few days ago……Mary called this vanilla pannacotta w/ strawberries.
Seems to me something like "life-altering creamy slathering love-bomb of strawberries" might be more accurately descriptive!!