Scott & Mary
Brewster House Bed & Breakfast, Freeport, Maine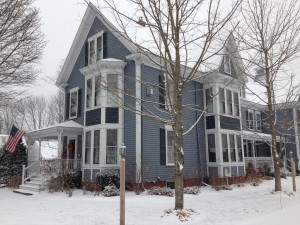 Today my Dad & I took a little men's adventure to the Maine Maritime Museum, out to lunch and a Home Depot stop for building stuff.
Cold!
Must've been 17 or so Monday AM, still a little snow here and there, after the winter gales of the last 2 days.
Got the flipside Noreaster on the way for the day before Thanksgiving.
Laid in bed last Monday night, listening to the wind lifting the shingles.
Rained buckets Tuesday night through Wednesday, then the gift you see above!
I digress….so, Don (my Dad) and I spent several hours absorbing the amazing models, histories, painting and artifacts at this breathtaking Maine Maritime Museum in Bath.
One of my favorites was the model of the 360' J. P. Morgan Jr. motor yacht that was built in 1930 at the Bath Iron Works.
It really is a stunning place to experience, and only 20 minutes from here!
It also has a fabulous store with all kinds of books, drawings, artwork, photos, souvenirs, crushed mussel shell coasters, etc.
We plan to replace a lot of the more uninteresting wall decorations here over the winter with Maine stuff.
We know you will enjoy the changes.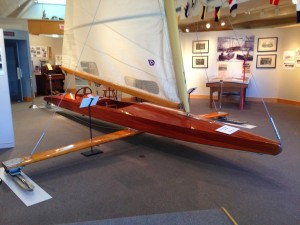 Ice boat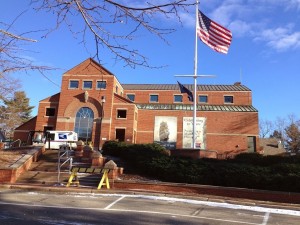 We're also refurbishing several rooms in the inn this winter (when not skiing or entertaining you).
We're also going to work on the Brewster House Good Times book this winter, so no matter how long you're here, no matter what the weather is, no matter what you like to do, we'll have an awesome "on the spot" resource!
LL Bean is whooping it up big for the Holidays!
Since they erected their enormous tree, every ½ hour on weekend evenings, they have an amazing coordinated music/ light show with their block-wide decorations!
Too bad you didn't book earlier for Sparkle Weekend!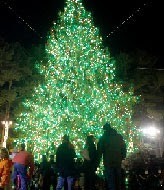 When you're a downhill skier, one of the great features of being busy all summer and fall is quiet weekdays in the Winter to visit Sunday River (or "The Loaf"), just 65 miles from here.
This was taken a few days ago!  Ah, we love the corduroy!!!!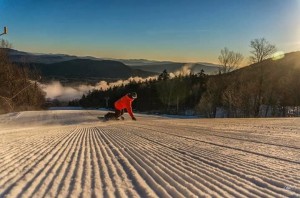 If your skiing ambitions are more the cross-country variety, sledding, dog-sledding, horse drawn sleigh rides or the snow-shoe touring sort, come up for the LL Bean Winter Carnival Weekend January 19
th
& 20
th
. Believe it or not, we STILL HAVE ROOMS!!
It will take place at the LL Bean Sports Center, near Wolf's Neck, and advance registration is required, SO PLAN NOW!!
Finally, don't forget Flavors of Freeport!
This delicious event includes the Chef Signature Series, and Flavors Ice Bar,  a DJ, fire pit and luge to get you slipping and sliding into mid-winter on Friday, Feb. 21
st
.
We have shovels full of winter deals available for you!
See our website and latest newsletter for a summary and GET UP HEEAH!!