Scott & Mary
Brewster House Bed & Breakfast, Freeport, Maine
Ah, Wow and Thank God for another Christmas!
I saw a very melancholy Facebook post from an old friend who unintentionally reminded me how lucky the Giles are, and after our wonderful family, that would include owning Brewster House and having the privilege of knowing all of you!
What has been exciting and powerful is the early winter, which I understand is not unique to Maine!
We got about 20" of snow here between last Sunday and Tuesday, and Tuesday AM was -3 degrees Fahrenheit!!
I've been skiing a couple of times already, and the last time was on 14" of new natural snow – VERY NICE!
There were some great photo ops, but to be honest, I just couldn't face removing my fingers from my mittens long enough to take a picture, sorry!
Brewster House looked gorgeous all dressed up in snow and lights, and our guests have really enjoyed hanging by the fireplace in the living room.
Seeing our guests relaxing there truly makes us smile, as the point of refurnishing it was to make the salon a place you would feel at home in….having a glass of wine, reading the paper, playing cards with friends, NICE!!!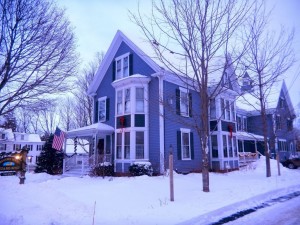 Poor Buddy's been not feeling well for a month, with digestive/ eating problems.
Scary to watch your dog lose ¼ of his weight in a couple of weeks!
He seems to be coming around, we're working at it as we really do love our dog!
As you can see, he's still dashing in his Christmas coat, Red Sox leash & collar!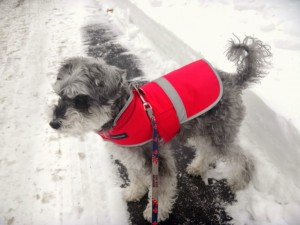 Photo
Don't for get
your outdoor winter options here that I alluded to in my Early Wintah Blog for the January Winter Carnival Weekend & Flavors of Freeport in February.
Also, LL Bean offers regular "learn to" cross country ski, and snowshoe adventures at their Outdoor Discovery School
http://www.llbean.com/llb/shop/1000001692
.
This Winter is certainly shaping up to be a fine one for playing in the snow, and believe it or not, we're getting a little busy in January!!
Scott & Ruth recognized their frequent guests with a discount.
We think that's the right thing to do, but where we don't necessarily know you all as well, will formalize a program so when you book, we will automatically know you as "Friends of Brewster!"
So, visit us four times, and from the fifth visit on, we will "take special care of you!"
Of course, this discount will be outside of special discount promtions such as our "Winter Wonderland" promotion for January.
Lastly, if you're not on the Newsletter list, you might've missed my mention of our success and interest in
Reconnect Weekends.
We can offer you a fabulous price if you can commit to renting all 7 rooms from us on any 2 day weekend that's available in January, March, April or May.
We need a leader of a group to commit to a full weekend for 7 rooms, & we'll ask for a 50% deposit up front
.
In return,
you own Brewster House for a weekend for just over 50% of the per room rack rates
!!
Of course, we'll serve the same elegant breakfasts, and can offer additional wine, or breakfast cocktails and our dining and living rooms for your pleasure.
Call for details!!
Thanks for being so kind and forgiving in our first half year of learning to be inn-keepers, and Merry Christmas to all, and to all a Good Night!!