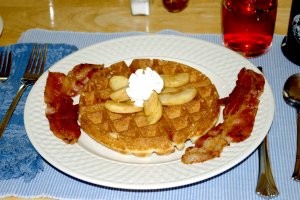 These wonderful, make-ahead, Belgian waffles are light and simply delightful with our Maine pure maple syrup, or our blueberry compote!
Makes about 6 waffles
2 1/3 cups all-purpose flour
2 1/4 teaspoons active dry yeast
2 tablespoons sugar
1 teaspoon salt
1 1/4 cups milk
1/4 cup water
1/4 cup butter
3 eggs
In a large bowl combine flour, yeast, sugar and salt; mix well
Heat milk, water and butter until very warm (120-130 degrees F; butter does not need to melt). Add to flour mixture. Add eggs.
Blend with electric mixer at low speed until moistened; beat 1 minute at medium speed.
Cover bowl with plactic wrap and foil; refrigerate several hours or overnight.
Pour approximately 1/2 cup batter on preheated grid, close and bake.
We serve them with pure maple syrup, blueberry compote, or maple apple syrup (pictured).