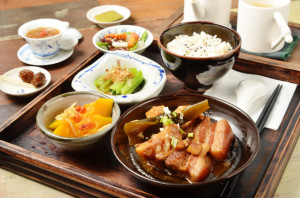 Situated 5 miles north of Freeport and Brewster House Bed & Breakfast, there is a restaurant that offers a unique and pleasing dining experience for those seeking the best in Asian cuisine, prepared by mother-daughter chefs Cecile and Cara Stadler. It is Tao Yuan.
After successfully forming Gourmet Underground, a private fine-dining establishment in Beijing, the two determined to open a restaurant in Maine, and the result was Tao Yuan. Cara has studied under renowned chefs, and honed her culinary craft in China and France. She is currently a semifinalist for the "Rising Star of the Year" as part of the 2015 James Beard Awards, which has several restaurant, chef, and restaurateur categories.
About the Name "Tao Yuan"
The inspiration for the restaurant's namesake is rooted in an ancient Chinese legend. In Chinese, Tao is "peach" or rather, a shortened form of "The Tale of the Peach Blossom Spring." The legend says a fisherman sailed, by chance, into a river that was banked on either side by a grove of peach trees that had blossomed with such profusion that the petals even covered the floor beneath their branches. Eventually, he found himself at the source of the river, and passed through a narrow grotto to find a hidden village full of people, functioning apart from the world and unaware of time's passing. They were living in harmony, peacefully coexisting in a small utopian community. The villagers welcomed him, and he stayed with them for several days. Until, at last, he departed. They villagers told him when he left that it would be of no use to impart a tale of their existence to anyone beyond the confines of their village. However, as the fisherman left, he carefully secured markers that would enable him to return. Telling several others of the discovery, they returned. But try as they might, they could not discern a way in or find any trace of the utopian village.
Tao Yuan desires that its guests feel that the experience they are having is unique and perfect, exquisite, such that they desire to return time and again. What's more, the guests, unlike the fisherman, won't have any trouble finding their way back to the restaurant.
Gastronomic Tour of Asia
Due to the weather, the first three 3 legs of the Gastronomic Tour of Asia had to be cancelled. But the journey continued as of March 1st, beginning with Taiwan and heading south to the Philippines. If you'd like to experience the full journey, a new one begins April 12 and runs through May 31st, offering cuisines from 1 country each successive Sunday.
The Taiwanese Sunday Dinner, for instance, had 4 courses (Cold, Dim Sum, Hot, and Dessert).
The Cold course featured: Raw Oyster, Fried Oyster, Marinated Quail Eggs
The Dim Sum course featured: Gua Bao, Tamsui Agi, You Fan
The Hot course featured: Thai Basil Clay Pot Chicken, Nu Rou Mian, Danzai Mian, Chinese Greens
Dessert: Mango Ice
They will accommodate dietary restrictions and food allergies with advance notice, and reservations can be made by calling 207 725-9002, emailing reservations@tao-yuan.me, or booking online. Reservations are required.
Take a look at the countries featured on the Gastronomic Tour and the menu ahead of each Sunday event.
Enjoy the Weekend with Brewster House Bed & Breakfast
Since you'll be nearby to enjoy the Sunday Gastronomic Tour at Tao Yuan, book a room with us and make a weekend of it. There are lots of things to do in Freeport, not to mention L.L.Bean. What could be better than a weekend (or weekends) in Freeport, enjoying a comfortable place to rest your head and a fine dining establishment to satiate your palate. We look forward to seeing you!