Taste Italy While Visiting Maine
What could be better on the Maine coast than dining on professionally prepared Italian cuisine? Perhaps an Antipasto of Mussels Solamente, followed by a Green Salad, with an entree of Beef Tenderloin Balsamico or Maine Pollack Puttanesca. All this with a bottle of Cabernet Sauvignon, Robert Mondavi Reserve, Napa Valley, California 2005. Brewster House Bed & Breakfast recommends only the best dining experiences, and that's why we want you to visit Azure Cafe: A Taste of Italy on the Coast of Maine.
Azure Cafe is Award-Winning
Azure Cafe is an Italian restaurant and Sea Grille. Amongst its accolades are the Freeport USA's Person of the Year 2014, awarded to Azure Cafe Owner Jonas Werner, "Maine Chef of the Year 2015" awarded to Executive Chef Christopher Bassett, and the Freeport USA's  "Best Food in Freeport" Award from the 2015 Flavors of Freeport. 
A Menu Designed to Please
Food. It's what restaurants do. Azure Cafe does it well. 7 days a week it is open for lunch 11:30AM-3PM (with an additional light lunch on Saturday and Sunday 3-5Pm) and open for dinner 5-9PM (open until 10PM on Friday and Saturday).
For lunch, dine on Freeport Fish 'N Chips, or perhaps go a little heavier, with a Lasagna Formaggio or Lasagna Bolognese. Perhaps you're in the mood for a Pineland Farms Burger, or maybe a Roasted Sweet Italian Sausage sandwich. Whatever your taste, you'll find lunch a wonderful and satisfying experience.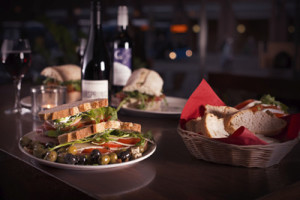 Dinner is a time for eating and relaxing, casting off the cares of the day, and letting the evening soak in as your body winds down in preparation for sleep. There's no better way to enter that slumber than satiating your hunger with anything on the dinner menu, with mouthwatering selections from Zuppa, Antipasto, Insalate, Entrees, Classic Italian Entrees, and a dessert menu that can satisfy the chocolate fanatic with its Flourless Chocolate Torte, or perhaps quell the cheesecake connoisseur in you with the Vanilla Bean Cheesecake with Wild Maine Blueberry & Strawberry Coulis.
Also new to the menu as of Spring 2015 is a selection of "side plates" customized for those with more modest appetites. This is just another characteristic of a superior restaurant seeking to satiate appetites and craft an unmatched dining experience.
What's Food Without Wine?
Having won the Wine Spectator's Award of Excellence for nine years running, Azure Cafe is known for its broad selection of wines. As if the delectable Italian fare wasn't enough to satiate the pangs of the most curious palate, Azure understands that having a fine wine to pair with that selfsame meal is of equal importance. Spring 2015 introduces custom wine blends in which you may visit Azure and mix your own personalized wine blend for repeat visits, or you may "blend the perfect pairing for every course!" With a diverse selection of wines, it's assured you'll find a match for your palate's desires.
Dine, Then Recline
Brewster House B&B sometimes includes Azure Cafe gift certificates in its specials packages because it is representative of quality, good taste, and excellent service.  If you're visiting the memorable Azure Cafe and you also want to use the time to discover other great must-see's in Freeport, Maine, let Brewster House Bed & Breakfast give you a place to rest from the day's activities. Elegant and comfortable accommodations meet up with modern amenities and professional service in our Freeport B&B. Check for rates and availability. Come stay with us!