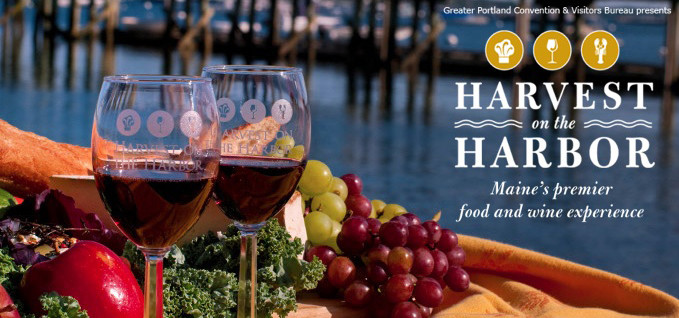 Harvest on the Harbor is Maine's premiere, annual food and wine festival, offering you the opportunity to eat and drink exceptional food, beer, wine, and spirits along with award-winning chefs, presentations, and live entertainment – all on Portland's waterfront: October 21st through the 25th, 2015!
A Portland fall tradition, the 8th annual Harvest On The Harbor is a five-day event that brings local chefs and vineyards from around the US to Portland to showcase their talents and products – not to mention all the gastronomes, gourmands, and epicures like yourself who come to sip, sup, and sigh over all the offerings.
This year's Harvest On The Harbor will feature many brand new events, along with the return of so many favorites. A Moonlight Gala kicks off this year's festival with live, Charleston-style music and dancing, gourmet cuisine, and wine pairings – all outside of Portland at The Landing at Pine Point in Scarborough, with transportation to an d from Portland as part of the ticket price!
Other 2015 Harvest On The Harbor events include:
Suds & Cider – From Hops to the Core – Friday, October 23, 5:30pm to 7pm
Interested in meeting some of the New England beverage industry's most respected brewers? Suds & Cider is for you! Mingle with beer and cider brewers and fans while sampling some of the region's finest examples.
Top of the Crop – Taste the Farms of Maine – Friday, October 23, 6pm to 8pm
A celebration of Maine's agriculture and the top chefs who support it, this event sees chefs teaming up with select, Maine farms to create mouthwatering dishes utilizing only fresh, seasonal ingredients. Oh, my!
Harvest Hop – Beer and Whiskey Crawl – Saturday, October 24, 7pm to 9pm
Explore Portland's local craft brewing and distilling scene with an interactive tour of fun, like-minded individuals. Learn about the brewing and distilling processes, enjoy samples, flights, farm to flask cocktails, and even take a little home with you.
Rock N' Roast – Barbecue and Brews – Sunday, October 25, 1:30pm to 4pm
Watch as the art of backyard barbecue is raised to new heights by some of Maine's best chefs – plus live music, and popular local craft brews. What's not to like?
We've barely scratched the surface of all that Harvest On The Harbor 2015 is set to offer. For a full schedule and list of chefs and vendors, be sure to visit the Harvest On The Harbor website – and, if you've any intention of attending, get your tickers NOW before they sell out, because they will!
Harvest On The Harbor 2015
October 21st through the 25th, 2015
Portland, Maine
www.harvestontheharbor.com
Harvest On The Harbor Lodging
Brewster House Bed & Breakfast, located in beautiful and historic Freeport, is but a 15 minute drive from Portland. We're the perfect home-base for any and all of your Maine coast vacation adventures. Stay at Brewster House Bed & Breakfast for impeccable service, uncommon comfort, and simple elegance that is world's away from, yet near enough for convenience, to the endless hustle and bustle of Portland. Stay with us and experience the difference!