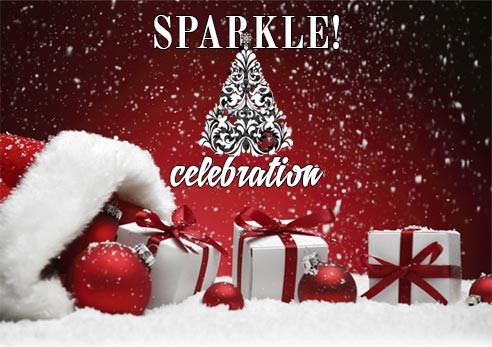 Looking for a great new way to celebrate the holiday season as well as get some fantastic shopping in? Come to Freeport, Maine for the Sparkle Celebration Weekend, December 4th through the 6th, 2015, and see why it's been a beloved Maine tradition for 22 years!
Much more than just a shopping promotion, Freeport's Sparkle Celebration Weekend is true fun and holiday tradition for everyone, guaranteed to transform even the most confirmed Scrooge into a happy elf with Christmas themed events and decorations, incredible selections and deals in the shops, free hot cocoa, horse-drawn carriage rides, a synchronized Musical Holiday Light Show with over 25,000 lights, and more.
The L.L.Bean Campus will host the annual L.L.Bean Winter Sports Weekend will have a great selection of winter sports gear for sale, as well as previews of exciting new products and special clinics both Saturday and Sunday, 10am to 2pm. Be sure to check out the L.L.Bean Ice Walk of amazing ice sculptures while you're there, too!
2015 Sparkle Celebration Schedule of Events
Friday, Dec 4th
6pm – Parade of Lights
Freeport's Main Street transforms into a Christmas wonderland with lights, music, and spectacle, culminating in Santa's awakening of the Freeport Talking Christmas Tree.
6:30pm to 8pm – Santa at L.L.Bean
Hey there, kiddies: Santa is at L.L.Bean and he's not here to shop! Meet and greet with the jolly old elf himself and his good pal, L.L.Bear while your parents take advantage of some special deals.
Saturday, Dec 5th
9am to 2pm – Night Tree hosted by Wolfe's Neck Farm
Inspired by Eve Bunting's popular "The Night Tree" book, this kids' holiday tradition includes the story being read, making wildlife-edible decorations, and taking a short hike to distribute your creations for the forest animals.
1pm to 7pm – Free Old-Fashioned Horse Drawn Wagon Rides
Enjoy a tour of festively decorated Freeport village from the vantage point of a horse-drawn wagon. On Main Street in front of the L.L.Bean Flagship Store.
2pm – 25th Annual Worldwide Tuba Concert
The free, annual, worldwide concert celebrating tuba players, teachers, and composers music for instruments in the tuba family. Freeport Performing Arts Center.
1pm to 4:30pm – Sparkle Express Mini Fest
Enjoy holiday music and carolers, activities for the kiddies, and browse through various Freeport vendors offering warm beverages, treats, and holiday-themed arts, crafts, and other gifts! Train and Information Center, 23 Depot St.
2:30pm & 3:30pm – Sparkle Express on the Amtrak Downeaster
The Sparkle Express for Saturday is SOLD OUT but that doesn't mean you can't enjoy seeing and sending it off with a cheer! Train and Information Center, 23 Depot St.
Sunday, Dec 6th
10am – Jingle Bell Run/Walk for Arthritis
A fun and festive way to exercise while helping others! Registration at 9am. Mast Landing School
Plus: Free Gift Wrapping all-day Saturday and Sunday at L.L.Bean (for goods purchased at their store) and Casco Bay Cutlery (for anything purchased in Freeport. Donations accepted with all proceeds going towards local non-profit organizations.
Be sure to visit the Freeport Sparkle Celebration Weekend website ( sparklecelebration.com ) for more information.
Sparkle Celebration Lodging
Brewster House Bed & Breakfast would love to host your stay during the Sparkle Celebration Weekend or any time you're in Freeport, Maine! Take advantage of our lush accommodations, convenient location, delicious breakfasts, and a spectacular Maine coast getaway.