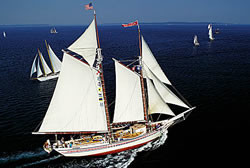 Perfect Maine Adventure, Land & Sea is what we're talking about here!  Spend 3-6 spellbinding days and nights on the 145' schooner Heritage http://www.schoonerheritage.com "the Queen of the Windjammers," and recover your senses for a like time in the understated elegance and comfort of "the Queen of Freeport," Brewster House!   Tour the coast, islands & harbors from Penobscot Bay to Mt. Desert Island (Acadia National Park), then enjoy Casco Bay, Bath, Portland, beaches, and the lakes and mountains from the simply elegant comfort of Brewster House.  This lovely large schooner will inspire you, and the breakfast, lunch and dinners created on her wood stove are incredible, not to mention the beach lobster bake the crew creates on an offshore island for your pleasure!  Captains, Doug & Linda Lee encourage your participation joining the crew in sailing her, should that be your passion, or kick back with a good book, enjoy the beauty of her under sail and the amazing coastal scenery sliding gracefully by!  https://www.youtube.com/watch?feature=player_embedded&v=vKBjprcNDjI  They offer 3 to 6 day voyages, with varying themes like "Summer Sailing Full Moon & Lighthouses", or "Great Schooner Race". and are home-ported in Rockland, on Penobscot Bay.
Doug is a world renowned author and expert on schooners, and he and Captain Linda actually designed and built Heritage specifically to carry passengers in the early 1980's.  My family and I have had the exquisite pleasure to spend a vacation on Heritage and participate in raising the sails, steering and enjoying using her amazing variety of sailing and rowing dinghies.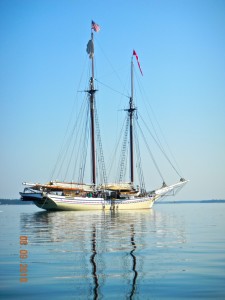 You know the cleanliness and quality of our inn, the amazing comfort and quietness of our beds & rooms, and the delectable multi-course breakfast Mary creates every morning.  Return to Freeport for shopping, relaxation and a dip into the gastronomic and cultural offerings of the Portland and Casco Bay areas.  Check out our video!  101179357  Incredibly, you could put a 6 day vacation together split between Brewster House and the Heritage for as little as $849/ person + tax!  Please call to discuss in detail.
Including special package incentives, we can create this vacation of a lifetime for you for as little as $849 + tax/ person, based on a 6 day vacation!  Call us for details and dates, and see Heritage's itinerary options at http://www.schoonerheritage.com/schedule.html!!  This is a once in a lifetime opportunity to completely inhale all that the Maine coast has to offer!!