I'm sharing these amazing five Maine Maritime Museum lighthouse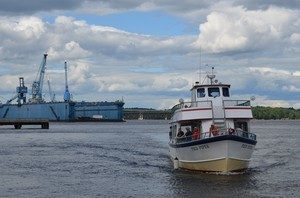 excursions with you, because they are so fun and interesting that they book up well in advance! If you wait until just before you come to Brewster House, you probably either won't get on the trip you most want, or may not get to go when you want. Not only is the Museum a fascinating depiction of the history of wooden (and modern) ship manufacturing as practiced on the Kennebec River and Bath, Maine, but also offers these dynamic river and coastal boat adventures, and Bath Iron Works & Town trolly tours. Share my passion and jump on one of these trips!
Bath has been a shipbuilding center in Maine since 1607, when the Popham settlement decided one Winter was enough in Sagadahoc (Maine at the time) at the mouth of the Kennebec River, and built their escape ship onsite. The Bath Iron Works continues that tradition, now with contracts for guided missile destroyers, and hopefully in the near future for the new generation of US Coast Guard cutters. The Trolley Tours are centered on sharing the history of the Town and BIW's history from the building of the "Ranger" Americas Cup winner in 1937, through todays generation of stealth destroyers based on the Zumwalt (DDG-1000) & Arleigh Burke classes. Although the schedule is not in place as I write this, it will be daily (except Sundays), $32 for Museum non-members. See Maine Maritime Museum Tours for details. For the best view of the yard from the River, combine this tour with the Shipyards & Lighthouse Cruise! Again, daily @ noon, one hour, $32.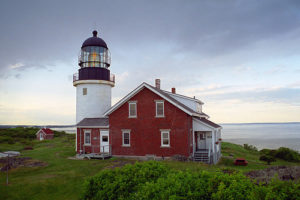 All the Lighthouse and River Cruises run from 6/13 – 9/5 Maine Maritime Museum boat cruises. There is a 6 Lighthouse Cruise and a 7 Lighthouse Cruise, the first being mostly confined to the Kennebec River lighthouses (but does go out to Sequin Island Light beyond the mouth of the Kennebec), and the second is a slightly longer river tour that includes a full river circle, including the Sasanoa and Sheepscot Rivers. The first is 2 hours in duration, and is offered on Sunday and Tuesdays @ 3:30PM for $39. The 7 Lighthouse Cruise is 3 hours long, and takes place on Mondays and Wednesdays, for $44 for non-members.
The Lighthouse Lovers Cruise is a 4 hour cruise that takes in some coastal beacons further east along the coast. So, not only do you enjoy the River lighthouses and Sequin, but it also takes in The Cuckolds (off Boothbay), & Ram and Burnt Island lights. This is a much more relaxing way to enjoy these from the water, than driving out to end of all of these peninsulas – $50. These are only on Saturdays @ 3:30PM.
Last, but not least, the Wildlife of Merrymeeting Bay takes you upriver to this unique huge natural sanctuary of fresh water, formed by the junction of 6 rivers, that is home to scores of bald eagles, ospreys, and migratory birds and fish of all sorts. Sturgeon and striped bass spawn in this beautiful bay! This trip is 3 hours long and is only run on Thursdays at 3:30PM. Of course, a naturalist will be on board to guide and inform you.
Freeport is right at the hard glacial turn east of the Maine coast, and so an amazingly well centered point to tour the coast, mountains or City of Portland from. Brewster House is perfectly located just a couple of quiet blocks from the busy LL Bean shopping mecca of Freeport, and the most luxurious spot to rest your tired body and renew your metro seared spirit! Call and we can help plan your time here, or book directly @ Brewster House B & B!