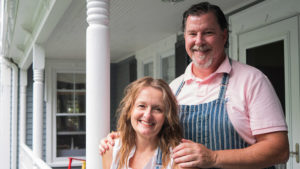 "What a big change!" A common quote from our guests when they hear we moved from the 24/7 hustle of New York City to the quiet charm of a small, New England town in Maine.  And they are right, the move has brought lots of change like restaurants that close before midnight, having only one deadbolt on the door, and the almost certain event of running into at least 3 friends on any particular visit to the local grocery. But the thing that is inspiring and important about both our most recent homes, the very long and rich history they both possess.  Our former home was a turn of the century mid-rise apartment in Harlem and our new home is another turn of the century, this time 19th!, Victorian with many of the original details still in tact.
Jarvis Adelbert Brewster and his wife Fanny, built the house now known as the Brewster House in about 1888; a descendant of William Brewster who came to the New World on the Mayflower.   Jarvis owned and operated a successful hardware next door to the site of today's LL Bean flagship store before it burned in 1894. Brewster sold the home in 1914. It remained a family residence until the mid 1900's and became a three apartments before Matt & Amy Cartmell bought, renovated and opened the Brewster House Bed and Breakfast in Freeport, Maine to guests on July 2, 1994.
Today Dave and I work daily to preserve and protect the rich history of the building we call home.  The wonderful interior woodwork, tin ceilings, original italian fireplace tiles and the lovely sun filled porch are prized and we work hard to show them the same care & attention that our predecessors did. We're proud to continue the home's innkeeping tradition while infusing some new ideas and expanded offerings. Dave's background as an executive chef in many notable New York City restaurants has been evident with the high praise and lovely compliments from our guests; "BigBrewstah" our 5-tap kegerator featuring craft beer from Maine has brought a few guests to their knees (in worship of course); while cooking classes bring in clients ranging from aspiring chefs, gastronomic travelers and even a few teen cooking phenoms.
Dave & I along with our children Benedict, Davis and Ruby delight in welcoming travelers from across the street and across the globe.  Our love of this industry is overshadowed only by the joy of seeing our kids welcome a guest and offer a heartfelt "thank you and safe travels". Our goal is to maintain the integrity of our home while infusing warmth, sharing laughter and creating wonderful memories for all that stay and enjoy their Maine vacation with us.