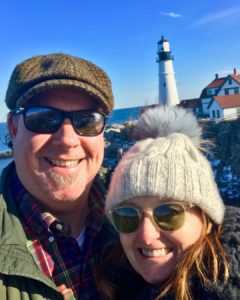 Lighthouses & Lobster in Maine- the most talked about topics with our guests that never get old.  Dave and I share the love of these two iconic and very Maine specialties.   First up, Lighthouses! …Maine boasts over 60 standing lighthouses across 3,500 miles of shoreline crammed into 280 miles of coastline.  Some big, some small and all photographed countless times.  Here at the Brewster House we love lighthouses so much we named our rooms after them.  Yup, from Cape Neddick and Cape Elizabeth to Marshal Point and as far north as West Quoddy.
What do we love about them?  Well, just like our children, they each have something unique and special.  Take the Cape Elizabeth & Portland Head, for instance.  Both lighthouses are near us, and relatively close together so our guests often plan to make a visit to both along with a picnic lunch or a stop to the Lobster Shack at Two Lights.  We love the Cape Elizabeth room for the King bed that can be converted to twin beds and that it is situated on our first floor for guests that either have trouble with stairs or dread carrying their luggage up them.  The Portland Head is another favored room for its King bed plus a companion room with a pull out couch, large screen tv & mini-frig…oh and did we mention this California king bed can also become two, twin beds for families or friends that like to travel in 3's?
Pemaquid Point ranks in our top 5 for its stunning beauty atop the unusually striated rock formation with crashing waves and tall pines.  Back at home the Pemaquid room gets wonderful southern light in the morning and features a large, windowed bathroom with cypress wood floors.
Did you know that the West Quoddy lighthouse with its distinctive red stripes is actually the eastern most point of the United States? Canada's Campobello Island plays host to the East Quoddy lighthouse.  I think West Quoddy may hold the title of most reserved room.  Its 4 poster bed, fireplace and spacious room with table and two arm chairs is appealing to many.
Bass Harbor rounds out our list of top 5 lighthouses due in part to its proximity to the beautiful Acadia National Park on the "quiet side" of Mount Desert Island and because it's the name of our very family-friendly suite.  Guests often spend multiple days with us or make the Brewster House Bed and Breakfast a stop among several as they travel the coast with Acadia as a popular northern destination.  Families find our Bass Harbor Suite particularly appealing for it's flexibility.  The 2 bedroom with connecting bath not only has its own refrigerator, but can be configured as a King bed & two, twin beds or 2 King beds.  It can be a great fit for couples traveling together although I suggest they be good friends because of the modestly sized bathroom the foursome will share.
With so many amazing lighthouses in Maine across the state it's hard to narrow to only a handful. But we're here to help either by guiding your reservation of the perfect lighthouse room with us, booking our Lighthouse Special package, or advising on the great lighthouses within an hour's drive from the Brewster House.
RESERVE your stay with us today.