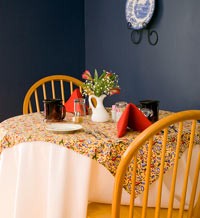 We have previously given a number of reasons why someone would want to stay in a bed and breakfast on their travels. Some bear repeating. There are also additional reasons to choose a B&B, including some specific reasons to choose a Freeport Maine B&B.
At Brewster House we recently entertained several guests who were on both their first visit to Maine and their first stay at a bed and breakfast. What did they find?
Better prices than hotel chains
While this may not be the case everywhere, in Freeport, Maine, especially during the busy summer season, the rates at the B&B's are generally quite a bit (sometimes as much as $50 per night) lower than the chains for a comparable sized room. For example, a room with one queen bed and private bath.
The breakfast is not the same!
Many of the chain hotels offer some type of breakfast for their guests. In some cases this is little more than mass-produced items, shrink-wrapped bagels, donuts and cold cereal. Even the chains with a better breakfast leave you feeling a bit like you've just had breakfast in the school cafeteria.
Your Freeport Maine B&B offers a hot breakfast, prepared fresh, and often with only fresh ingredients and made from scratch. Each bed and breakfast has its own personality, so the breakfasts will reflect the tastes of the innkeepers. Most will offer different menus on successive days, so, unlike the chain hotels, you will not see the same meal each day.
Menus will range from pancakes or waffles to egg dishes, from suffed French toast casseroles to quiches, with sides like freshly cooked hash browns, meats, and fresh or cooked fruit dishes. Whatever the style, the breakfasts are one of the main reasons to stay at a B&B!
The rooms
Once again, the rooms in a bed and breakfast will vary from one B&B to another. Most try to make good use of the space, but the old homes were not identical, so the conversion to a B&B results in a variety of combinations.
Some will have rooms of varying sizes, some will be more nearly uniform. Some will be spacious, others less so. All are decorated with individuality and attention that can not be matched in an institutional setting.
The service
In a B&B in Freeport Maine you won't find 24-hour desk clerks and large staffs of people available at any time. What you will find is owner-innkeepers who sincerely desire to make sure that every guest has a thoroughly enjoyable stay in the area.
Your innkeepers will not only see that your room is ready, and your breakfast is served promptly – that goes almost without saying. They will also answer nearly any question about Freeport, or about Maine, and its wonderful scenery, history and attractions. They will provide driving directions, restaurant recommendations and reservations, Most will provide some type of afternoon refreshments, in addition to the delightful breakfast.
More information
To find more information about Brewster House Bed & Breakfast, please visit our website. More information on Freeport's historic bed and breakfasts can be found on the Historic Freeport Bed and Breakfasts website. You may also find information on Maine B&B's at the Maine Innkeepers website or the Maine Office of Tourism website.