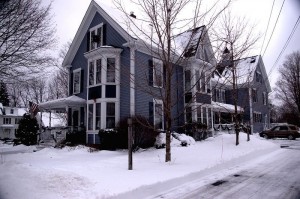 Our New Year started with a Nor'easter – which we hope is not a sign of the year to come! We were well prepared, as the weather reports had said that a big storm was moving up the Atlantic coast on January 1, and like many big storms, turning to the northeast, toward Nova Scotia. Had that been the entire story, the storm would have missed us.
This time, however, the storm had a backward movement, settling back onto the Maine coast, and dumping feet of snow on Maine, accompanied by strong, gusty, winds. We ended up with about 16-18 inches of snow overnight on January 2, with even more snow north and west of us.
Thankfully, since the snow had accumulated relatively slowly, so by plowing and snow-blowing frequently, the cleanup was quite manageable. By January 3 the temperatures climbed above freezing, and some of the snow melted, then turned to ice overnight, so we had a bit of an icy driveway by January 4, but it is all cleaned up now, and we're back to normal.
Like many shopping areas, the after-Christmas sales are in full swing. However, unlike many after-Christmas sales, here they continue to get better and better, usually throughout January and February. For example, L.L. Bean is currently in the midst of a Winter Sale, with many items up to 50% off.
If you're interested in more active pursuits, they have their Walk-On Adventures underway for snowshoeing and cross-country skiing. For the more independent, Wolfe Neck Woods State Park and the Coastal Maine Botanic Garden have trails for cross-country skiing and snowshoeing, and a full set of groomed trails, rentals, lessons, etc., are available at Pineland Farms, just a short drive away.
We're continuing our Shop, Dine & Stay package through January 31, so if you're coming, book that package for a two night stay and receive a $100 L.L. Bean Gift Card (combine that with their sale prices to really stretch your dollars!) and a $50 gift certificate at Azure Cafe. The package price is $499 (taxes included). Add a third night for just $100.
We look forward to helping you plan your winter getaway!!