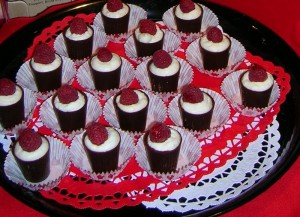 As previous Flavors of Freeport visitors will recall, the first two Flavors events took place in February, which is heart month, and were to benefit the American Heart Association.
While the Flavors organizers were very pleased with that relationship, the decision was made a year ago to move the event to April, and broaden the areas of support, by involving United Way and Freeport Community Services. To that end, the planning committee has been busily working to pull together the 2010 Flavors of Freeport event, now being held April 9-11.
The new website and detailed schedule of events have not yet been disclosed (the new website should be up and running in about a week or two), there are some exciting changes in the works, so we decided to "let the cat out of the bag" on a few of them.
The major events will be, as previously, the Chef's Signature Series and Libations Sensations event, from 6-9 p.m. on Friday, April 9. with 20 restaurants, purveyors of spirits, and local chefs providing samplings of their culinary skill. On Saturday, from 10 a.m. to 4 p.m. will be Lifestyle Demonstrations, cooking, decorating and setting demonstrations from local experts and professionals. The third major event will be the new for 2010 Block Party at Freeport Village Station. The Block Party will include free entertainment, exhibits, and a celebration for all ages.
Last year the Historic Freeport Bed and Breakfasts provided a Chocolate Challenge at the Chef's Signature Series, which was extremely well-received (hard to go wrong with chocolate desserts!). For 2010 the B&B's have again prepared a special event – basing the idea on the recent film, Julia and Julia, each B&B will prepare a dessert for sampling from a Julia Child recipe. Doesn't that sound tempting??
Tickets will be available for advance purchase online, and some participants (especially lodging properties) will offer packages that include tickets to the events. Tickets will also be available at the door.