Lighthouses and Lobster Shacks – they make a great combination. When sightseeing from a base in Freeport, you can find plenty of Maine lighthouses and lobster shacks, but, even better, you can often find both of them together.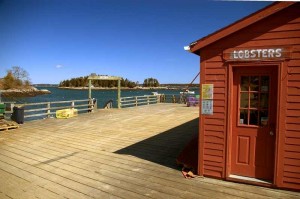 For example, let's say you are staying at our Freeport Maine bed and breakfast, and you'd like to visit some lighthouses, but would also like to see some lobster shacks and enjoy a wonderful lobster dinner (or two).
After breakfast you might head south to Cape Elizabeth, where you can spend hours at Fort Williams Park, enjoying Portland Head Lighthouse and the museum in its keepers' house, as well as the old stone house, the two forts (from different eras), the beach, playground, and hiking trails along the bluffs. When you are ready to leave the park, you simply turn left, and enjoy the drive along the water back to Route 77, then proceed to Two Lights, where you can enjoy the double lighthouse, plus Two Lights Lobster Shack, and the wonderful views from it's perch on a hill. You can walk out the rocks above the water, and even see Portland Head Lighthouse in the distance, on a clear day.
After enjoying a break at Two Lights Lobster Shack, you might return north, taking I-295 to US-1 in Brunswick, then enjoy the drive to Damariscotta, then take Route 130 out the peninsula to Pemaquid Point Lighthouse, where you can admire the spectacular views. Afterward, you can return only as far as Route 32, where you'll find New Harbor, and Shaws Lobster.
As an alternative, you might visit Five Islands Lobster Company, on Georgetown Island. From that lovely location you can watch the lobster boats return with their catch, and enjoy it on the picnic tables on the dock, while gazing across the mouth of the Sheepscot River at Hendricks Head Lighthouse.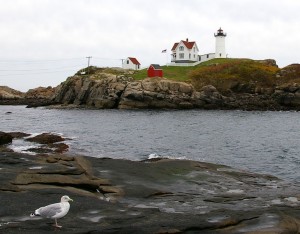 Another option, if you go south of Portland, is to find your way to the hidden gem or the area, Cape Porpoise, where you'll find Pier 77 Restaurant and Grille – not exactly a lobster shack, but a great place for a nice meal (lobster or otherwise), and just offshore is Goat Island Lighthouse.
Still farther south is Cape Neddick Lighthouse ("the Nubble"), and Fox's Lobster. Cape Neddick is one of Maine's most photographed lighthouses, and provides a great backdrop while you enjoy your feast!
Ruth & Scott
Brewster House Bed & Breakfast, Freeport, Maine