Scott & Mary
Brewster House Bed & Breakfast, Freeport, Maine
At the risk of being repetitive, time for more local boating opportunities….. Listen, Maine is all about outdoors, and we're smack in the nexus of a fabulous coastal ocean and river recreational paradise. Note the root word "recreate." Isn't that why we come to Maine?? Hey, we all know about the local shopping and eating options, but that's not how Maine creeps into your "geeze, I can't wait for vacation" thoughts!
Having a long sailing, fishing and general boating history, I'm working on making it a primary mission to know all the best local options for you to enjoy what we have here. Did you know Casco Bay has 228 islands? This afternoon, I had the rare chance to jump on Bella (my trusty motorcycle) and cruise over to Harpswell Neck to meet Captain Barry Commett of the Barbarian III. Barry's been on Casco Bay for over 30 years and has recently acquired a beautiful 31' Eastern powered by a hefty Cummins diesel, which cruises at 16 knots (18 mph). Barry can take you fishing for cod, mackerel, shark or tuna, although my personal choice would lean towards striped bass or bluefish (piranhas of the east coast). Barry also loves to share the natural beauty and features of the Bay with his clients, and is just as happy to take you on a seal, eagle, osprey, eider natural tour, while pulling a few of his lobster traps on the way. The Barbarian is immaculate inside and out, even featuring an oriental in the cabin! Barry can take up to 6 out for a four or eight hour adventure. By the way, stripers and blues bite better in May/June or Sept./October when they're headed from or to the Chesapeake Bay area. Barry's website is
www.barbarian3charters.com
. At $350 for ½ day, or $700 for 8 hours, this is a premier and custom experience. Understand, owning, insuring and operating such a vessel does not come cheap!!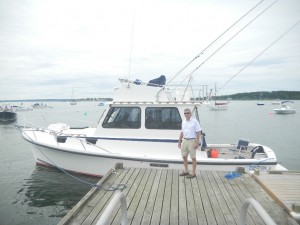 Captain Tom Ring takes folks alternately out of Freeport, or Bailey Island. His mission is more often destination oriented, including lighthouse cruises or Eagle Island (the home of Artic explorer Admiral Robert Peary) visits, with narrated trips out and back pointing out natural features, fauna, historical items and other nautical lore. He also pulls a few lobster traps and carries you on a converted 40' Novi lobster boat. "Atlantic Seal Charters" is a bit more touring oriented , and carries a healthier compliment of passengers (24?). Their website is
www.atlanticsealcruises.com
. These trips are typically 3 hours, and also offer some hiking around the Island. Cost is only $35 – $55/ person, depending on the trip.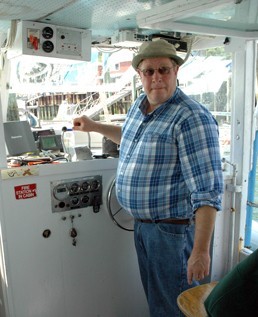 The Brewster House has a long standing relationship with Portland Schooners, for that traditional (but short) Maine traditional coastal schooner experience. True, you have to drive to Portland, but the good news is that you're there to eat and drink before and/or after your sail. It's very reasonable at $39/ adult, each carries up to 30 people, but keep in mind it's a sailboat……only really entertaining if there's wind. I n Maine, your best odds for that are between noon and 5PM, unless you're lucky enough to have a weather front come through when you're on the boat.
www.portlandschooner.com
.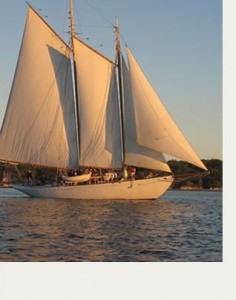 I have my eye out for local sailboat charter guys, more on that later…….. As in all things, "you get what you pay for!" Above all, if it's not raining (and even maybe if it is), do yourself a favor and PLAY ON THE WATER to experience the real Maine!!

PS – I was a little off on the Downeaster, it's more like $44 – $49 round trip from Boston's North Station. My Sister who lives in Newburyport is still convinced that would beat sitting in Sunday night traffic for 5 hours!!