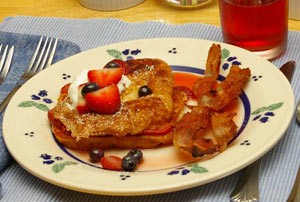 A delicious French toast, made with croissants and served with a strawberry compote, this unusual and delicious variation on French toast is really a winner.
Makes 4 servings.
4 large croissants — day-old (stale)
3/4 cup milk
2 large eggs
1 teaspoon vanilla extract (use 2 tsp if you like)
2 tablespoons butter
whipped cream — (optional topping)
Fresh Strawberry Syrup (see next recipe)
Powdered sugar
Slice croissants in half lengthwise
Whisk together milk, eggs, and vanilla. Pour into a shallow dish. Dip croissant halves into egg mixture, coating well.
Melt 1 tablespoon butter in a large nonstick skillet (or griddle) over medium heat. Add four croissant halves, and cook about 2 minutes on each side or until puffy and golden brown. Repeat procedure with remaining butter and croissant halves.
Sprinkle with powdered sugar; top with Whipped Cream if desired, and Fresh Strawberry Syrup.
Serving Ideas : Sprinkle a few blueberries on top for a colorful presentation.
NOTE: If croissants are not stale, they will not absorb the batter as fully, and will not plump as much when cooked.